Best RV Generator in 2021
Need help finding the best RV generator? The good news when it comes to generators is that there are lots of options, brands, and specs you can choose from, the bad news, however, is that it can get too overwhelming to make a decision. This is why I'm here to help you pick the best generator for your RV with a detailed buying guide and a list of the top 5 RV generators available on the market.
If you buy something using links on this page, we may earn a commission, at no extra cost to you. This helps support our research. Please consider subscribing to esrconline.org
RVs can bring a whole lot of fun to you, your family, and friends, but what happens when you run out of power? You can't depend on the basic battery of your RV to keep all your electronics up and running for days on end, so what do you do? Well, you get an RV generator of course!
RV generators are your safe bet when it comes to outdoor life, they help sustain the various appliances and gadgets during your trips so you can enjoy your time without worrying it'll all come crashing down!
Types of RV Generators
RV generators aren't all the same. In fact, there are three different types according to the fuel used to operate them. Each one has its advantages and disadvantages which we'll be discussing so that you can choose the most suitable generator.
Gas-powered Generators
These generators run on gasoline which is probably the most accessible and readily available fuel, so it's the more convenient choice. Gas is also the least costly out of the three fuel types.
While it's easy to refill this kind of generator, you have to be careful with storing and transporting gas as it's highly flammable. Additionally, you should avoid leaving gas in the tank over long periods of time as it can clog the carb.
Unfortunately, gasoline has a short shelf life due to the presence of impurities, which also affect its burning making it unclean and harmful.
Propane powered Generators
Generators operating on propane aren't as powerful as ones running on gas or diesel, the lower levels of power require you to constantly keep an eye on your consumption and plan it out extra carefully.
On the upside, propane as a fuel is a clean-burning power source that gives off less harmful emissions. This means less damage to the generator and less maintenance work for you. It has a long shelf life allowing you to keep it from one summer to the next. Propane powered generators are also of a cheaper price.
Diesel-powered Generators
If you're looking for the highest amount of power production, the diesel-powered generators are exactly that. They offer a cleaner burning ability compared to generators utilizing gasoline. Also, you can store diesel safely.
If your vehicle already runs on diesel, it'd be a smart choice to also use a diesel-powered generator considering you'll be feeding them a single fuel.
The catch with this type of generators is that they are built with heavier and bulkier components, which translates into extra weight added to your vehicle. They also tend to produce more noise than other kinds of generators.
What to Look for in an RV Generator?
Jumping into buying an RV generator isn't the ideal approach if you want to find the best RV generator. Instead, you should first consider a few points to really get an idea of what will work better for your needs.
Power Output
The one vital factor in choosing the best RV generator is how much power it produces. You need to make sure your generator supplies adequate power to operate all your electronic devices without completely draining the available fuel reserve. You also don't want excessive power capacity that costs too much and exceeds your budget.
If you lean towards small trips, you'd probably be fine running a 1000 watt generator to power small devices such as phones and lights. However, if you want a full-on motor-home experience, a generator with at least 3000 watts of power is what you need to comfortably run heavy demanding appliances such as that 15,000 BTU air conditioner along with other tools.
Portability
The decision between a portable or a permanent unit is something you should get over with to better decide what generator is best for you. Permanent generators are attached to your vehicle at all times, which is why most people prefer the portable type as it offers way more versatility in cases of power outages as well as tailgating on top of the intended RV usage.
To enhance portability, generators are generally built not too heavy or bulky so that you can easily move and transport them single-handedly if the need arises. Sturdy wheels and adjustable handles are also a great plus when it comes to handling portable generators.
While it's true that portability tends to cut down on power output, the issue can be resolved simply using the parallel capability. This allows you to connect two generators together, operating as one unit delivering double the power.
Noise Level
Too much noise can definitely ruin what would otherwise be a perfect getaway, not only for you but for those surrounding you as well. For the sake of avoiding such inconvenience, you should take into account the noise level your generator produces, typically measured in dBA (decibels).
Multiple brands are noticing this problem and actually worked on providing muffling solutions where generators produce less than 60 dbA noise level. You should be just fine with such noise levels that allow you to have normal conversations comfortably, frustration and distraction free.
Note that the more power you seek, the louder the generator will get. It's unfortunately bound to happen due to increased load.
Fuel Consumption
Something that shouldn't escape your attention is the fuel consumption as well as its efficiency.
What you want here, is generators featuring certain advanced technologies that enable them to adjust their engine speed according to the power demand. This means that the engine automatically reduces its speed when a few light appliances are connected, thus, minimizing fuel consumption. You want your engine running full-throttle only when it's necessary.
Such a smart feature lets you better plan your fueling schedule, how much to stock, and how often you need to refill.
Convenience
Features to enhance your interface and facilitate the operating of your generator are always welcomed. From displays that allow monitoring consumption statistics to wireless remote start and low-oil shutdown safety feature, all are useful additions for optimum performance.
Best RV Generators – 2021 Reviews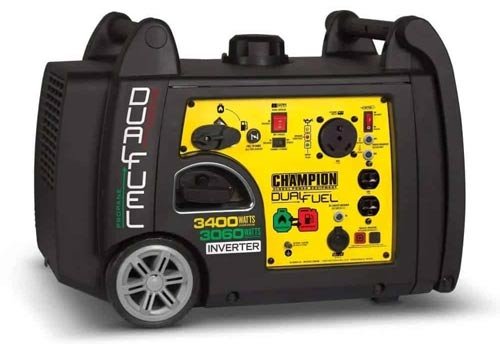 Champion 3400
Best RV Generator – Dual Fuel
Starting Watts:
3,400w |
Running Watts:
3,100w
Max Run Time:
14 hours
(at 25% load)
|
Noise Level:
59 dB
Fuel Type:
Gasoline & Propane (LPG) |
RV Ready:
Yes
Item Weight:
95.7 lb |
Gasoline Capacity:
1.6 gal.
Dual fuel option
Powerful
Economy mode to regulate engine speed
Easy access control panel
3-year warranty
Wheeling mechanism can be awkward
Not cheap
There's no better way to kick start our list than with one of the most dependable brands to produce power equipment, the Champion 3400-watt Portable Generator. It offers durability as well as versatility, making it popular among tons of users.
Right off the bat, I'm super impressed with the dual fuel option that lets you choose your preferred power source, either gasoline or propane, at any given time using the easy selector switch.
The 3400 starting watts along with the 3100 running watts provide enough power to operate a 15,000 BTU air conditioner besides other appliances. The engine produces clean stable energy to be safely used with electronics such as tablets and digital cameras. It's also quiet for such power, running at 59 dB of noise in quarter load operation.
The dual Champion generator will give you 7.5 hours of use on its 1.6-gallon gas tank, and up to 14.5 hours run time on the 20-pound propane tank. Not just that, it also comes packing many handy features such as; electric start button, low-oil shutdown, Quick Touch panel, two household outlets, USB, and parallel connectivity.
The EPA certified and CARB compliant Champion 3400-watt generator is an ideal pick for any RV owner, given that you can overlook the hefty price tag.
DuroMax XP4400E
Best RV Generator – Value Pick
Starting Watts:
4,400w |
Running Watts:
3,500w
Max Run Time:
11.46 hours
(at 50% load)
|
Noise Level:
69 dB
Fuel Type:
Gasoline |
Gasoline Capacity:
3.96 gal.
Item Weight:
120.0 lb |
RV Ready:
Yes
Great value for money
Long run time
Powerful performance
Built-in muffler
Durable
CARB approved
Poorly written instructions
Louder than other options
Receiving a wide range of positive reviews, the DuroMax XP4400E is undoubtedly one of the best gas-powered generators you can consider. It provides plenty of power to handle multiple jobs, with a fierce 4400 starting watts and a massive 3500 running watts, it can handle anything from heavy duty air conditioners to light electronics such as laptops. It can even power a small house.
The engine on this generator is protected thanks to the low-oil shutoff feature, cutting off the operation automatically when it senses a low oil level. It doesn't stop there, the DuroMax has the ability to run efficiently for 8 continuous hours working at a 50% load. The built-in muffler aids in the overall quiet operation.
The steel frame provides maximum durability while the wheel kit and the front handle make for comfortable portability. The DuroMax is also equipped with a full power panel introducing its power outlet, circuit breaker, engine shutoff switch, and voltmeter. This generator comes at an affordable price, but badly written instructions.
Champion 3800
Best RV Generator – Workhorse
Starting Watts:
4,750w |
Running Watts:
3,800w
Max Run Time:
10.5 hours
(at 50% load)
|
Noise Level:
68 dB
Fuel Type:
Gasoline & Propane (LPG) |
RV Ready:
Yes
Item Weight:
119.0 lb |
Gasoline Capacity:
3.4 gal.
Long run time
Incredible price
Extremely powerful
Dual fuel option
CARB compliant
Easy to move
Durable steel frame
Protects against spikes and surges
If you're looking for a generator that hits the sweet spot of sheer power and amazing portability, then the Champion 3800-Watt Portable Generator will fit like a glove.
This generator produces an insane 4750 watts of starting power and an immense 3800 watts of running power, such power is more than enough to operate any heavy duty device, let alone light appliances. The push-button electric start feature includes an internal battery charger that charges the battery while the generator is operating.
Similar to the other Champion generator on the list, this one also supports dual fuel option, giving you the freedom of using either gasoline or propane. No matter the choice, you'll be pleased to know it runs for 9 hours on a full tank of gasoline or 10.5 hours using a 20-pound propane tank, at half load.
While it's true this generator is the heaviest among our contenders at 119 pounds, its portability is so easy that you'll forget all about the weight. The volt guard is also a nice addition to prevent sudden spikes or surge in volt.
The only issue with this powerhouse is, as expected, the noise level. It's actually not loud for it's size, but there are quieter options for your RV. However, at such a great price point, it's almost unbeatable.
WEN 56475
Best Generator for RV – Alternative Option
Starting Watts:
4,750w |
Running Watts:
3,750w
Max Run Time:
11 hours
(at 50% load)
|
Noise Level:
67 dB
Fuel Type:
Gasoline |
Gasoline Capacity:
4 gal.
Item Weight:
112.5 lb |
RV Ready:
Yes
Long run time
Multiple receptacles
Extremely powerful
Portable with folding handles and wheel kit
CARB compliant
Affordable
Build quality is not as good as others
If you're on the hunt for a bargain, the WEN Portable Generator might be just what you need, combining raging power with ultra affordability. It's EPA and CARB compliant, making it available across 50 states.
This model features a keyless electric start that lets you turn on your generator at the press of a button, saving you all the pull start pain. The generator is equipped with smooth rolling wheels and space-saving foldable handles to simplify its mobility for easier transport.
The OHV engine is air-cooled and loaded with various safety maximizing features including; low-oil shutdown, automatic voltage regulator, and overload protection. This 223cc engine delivers a whopping 4750 starting watts as well as 3750 running watts, granting you the freedom to power just about any appliance.
This gas-powered generator has a 4-gallon tank, which gives you up to 11 hours run time at half load. It's not particularly loud, but there are quieter options out there.
Yamaha EF2400iSHC
Best Generator for RV – Super Quiet & Most Reliable
Starting Watts:
2,400w |
Running Watts:
2,000w
Max Run Time:
8.6 hours
(at 25% load)
|
Noise Level:
53 dB
Fuel Type:
Gasoline |
Gasoline Capacity:
1.6 gal.
Item Weight:
75.0 lb |
RV Ready:
Yes
Automatic engine speed adjustment
Very quiet
Lightest option in our list
Multiple power outlets
Excellent build quality
Highly durable
Very reliable
CARB compliant
Lacks wheels for easier transportation
Oil changes can be tricky
Very Expensive
Conclusion – Which is the best RV generator for me?
When investing in an RV generator, durability and power are my top priorities because they guarantee that I'm prepared to handle any situation I may encounter. The Champion 3800 Watt RV Ready Portable doesn't only deliver reliability, but it also offers fueling options as well as numerous safety and convenience features. Topping things off with easy portability and a great price, the 3800 just walks this one home!
If you're looking for something that has the power and is priced even lower, I'd really recommend the WEN 56475 RV ready generator.
Written by
Brian McCarthy
"With over 40 years experience as an engineer, I use generators on a daily basis. I consider myself highly qualified to pass on my knowledge"