Champion 100263 Generator
The Champion 100263 is a dual fuel inverter generator, meaning it can run on both gasoline and propane. It's portable, compact and quiet with a rated wattage of 3100W and a starting wattage of 3400W.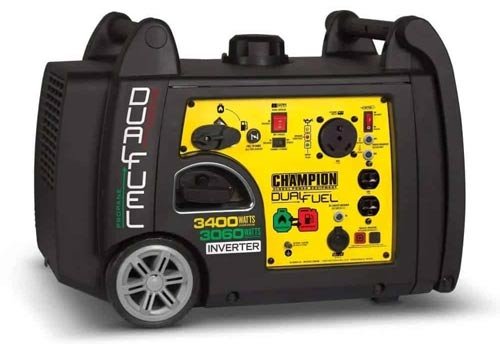 Rated Watts:
3100W
Peak Watts:
3400W
Max Runtime:
14h
(@25%)
Start:
Electric, Recoil
Emissions:
EPA, CARB
Fuel Type: Dual Fuel
Noise Level: 59 dBA
Item Weight: 95.7 lbs
RV Ready: Yes
Inverter: Yes
Champion 100263 Description
Whether you need it to power your RV, home, or other projects, the Champion 100263 Inverter Generator can be the best candidate. It's packed with numerous features that no one could ignore.
For instance, Dual-Fuel lets you operate the generator on gasoline or propane. Also, Cold Start Tech allows users to run the machine at low temperatures. But that's not all what this generator is good for.
To give you the full picture of its incredible performance, let's discuss each one of its aspects in-depth.
Power and Runtime
The most impressive thing about the Champion 100263 generator is its immense power. Here, the Dual-Fuel feature supports both gasoline and propane, which could come in handy in many scenarios.
When using gasoline, the 192cc engine will produce 3,400 starting watts and 3,100 running watts. In this case, the runtime will extend to 7.5 hours at a 25% load.
Switching to propane is quite easy since all you'll need to do is turn the fuel selector dial the other way. On propane, the generator produces 3,060 starting watts and 2,790 running watts, and it will keep working for 14.5 hours at a 25% load.
Outlets and Ports
The Champion 100263 has a unique variety of outlets to support a multitude of applications. This way, users will be able to run their RVs as well as their electronics on clean energy.
For example, the generator comes with a 240V 30A RV port. Plus, it's available with two 120V 20A household outlets to support all types of sensitive electronics.
What's even better is that this inverter generator has a 12V DC outlet with a dual USB adapter. Therefore, you could use it as a charger as long as it's compatible with the device you're recharging.
Features
Now, it's time to address all the impressive features that make Champion 100263 a favorite of many RV owners. Besides its long runtime and incredible power, the following qualities can enhance its performance greatly.
First off, Cold Start Technology grants you a quick start in the cold weather. We can't say the same for other generators, which tend to struggle when you try to operate them in winter.
Second of all, Champion 100263 works to deliver Clean Power, with a THD value that's lower than 3%. So, people could use it to power their homes or RVs without worrying about energy consumption.
Another thing that makes this generator remarkable is how user-friendly it is. The three-position ignition switch grants you a fast start without further delay. In addition, you'll have the Quick Touch panel with all the necessary controls in one place for easy access.
Remarkably, the Parallel Kit can be one of the most useful features that you could benefit from in countless situations. It allows you to connect the generator with two 2,800-watt generators to increase your overall output.
Also, you should know that the generator's tank material is steel. This increases the durability and longevity of the Champion 100263, allowing it to do its job efficiently for years.
Finally, portability shouldn't be a problem with this inverter generator. It's equipped with durable tires and built-in handles for transportation. Plus, these handles are foldable, which saves space and makes storage much easier.
Size and Weight
The Champion 100263 Inverter Generator has a length of 25.1 inches and a width of 17.3 inches. As for its height, it's only 18.3 inches.
With these dimensions, storage should be effortless. Just make sure to store the generator in a dry place that isn't exposed to the elements. Also, pay attention not to run the unit while it's in an enclosed space to prevent overheating.
This generator weighs 95.7 lbs. Of course, that's quite heavy, but it's only normal for such a sturdy machine. Plus, you won't need to lift it off the ground since it comes with wheels and handles to let you transport it with ease.
Noise Level
If you're wondering about the noise level of the Champion 100263, then you're in for a treat. The inverter generator operates at 59 dBA from 23 feet. In other words, the noise level that this machine produces is similar to the one you might hear from a conversation.
The reason behind this quiet operation is that the generator runs on Economy Mode. This technology works to reduce the electrical load, which ultimately leads to a low noise level. Plus, this mode helps you save energy as well, not to mention that extends the engine life.
Emissions
According to the manufacturer, the generator's exhaust includes carbon monoxide, which is why users should be careful. This odorless and colorless gas might cause nausea or dizziness if someone is overexposed to it.
To keep that risk to the minimum, make sure not to operate this generator indoors. Users shouldn't run it in their sheds, garages, or even the generator compartment of their RVs.
Sure, the Champion 100263 emits a lower percentage of toxic gases in comparison to other generators on the market. However, that doesn't mean that it comes with zero emissions.
It's best to read the instruction manual closely before starting this machine to remain on the safe side.
Final Thoughts
The Champion 100263 Inverter Generator can give you a good balance of high performance and versatility. Whether you'll be using it for your recreational vehicle or an outdoor event, this beast should be able to keep up.
It comes with a multitude of incredible features such as Cold Start Technology, Quiet Operation, and Dual-Fuel. Plus, it's one of the most portable generators out there with its solid wheels and foldable handles.
EPA-certified and CARB-compliant, the Champion 100263 Inverter Generator can be a great investment.
Champion 100263 Specs (Specifications)
POWER
| | |
| --- | --- |
| Running Watts | 3100W (Gasoline) / 2790W (Propane) |
| Starting Watts | 3400W (Gasoline) / 3060W (Propane) |
| Running Amps | 25.8 amps (Gasoline) / 23.3 amps (Propane) |
| Starting Amps | 28.3 amps (Gasoline) / 25.5 amps (Propane) |
| Voltage | AC: 120V 60 Hz, DC: 12V |
| Runtime (25% Load) | 7.5 hours (Gasoline) / 14 hours (Propane) |
| Runtime (50% Load) | - |
General
| | |
| --- | --- |
| Fuel Type | Dual Fuel (Gasoline / Propane) |
| Engine | 192cc Champion 4-Stroke |
| Starting System | Electric, Recoil |
| Portable | Yes |
| Inverter | Yes |
| RV Ready | Yes |
| Parallel Capable | Yes (Cable not included) |
Features
| | |
| --- | --- |
| AC Outlets | 1x Duplex 120V 20A (5-20R), 1x 120V 30A (TT-30R) |
| DC Outlets | 1x 12V 8A |
| GFCI outlets | No |
| Covered Outlets | No |
| Automatic Voltage Regulation | Inverter |
| Fuel Tank Size | 1.6 gal (Steel) |
| Fuel Gauge | No |
| Data Center | No |
| Indicators | Low Oil, Overload, Output Ready |
| Bluetooth | No |
Miscellaneous
| | |
| --- | --- |
| Brand | Champion |
| Model # | 100263 |
| Weight | 95.7 lbs |
| Dimensions (L x W x H) | 25.1 x 17.3 x 18.3 inches |
| Noise Level | 59 dBA |
| Emissions | EPA, CARB |
| THD | < 3% |
| Security | Low Oil Protection |
| Neutral | Floating |
| Spark Arrestor | Yes |
| Accessories Included | Dual Port USB Adapter, Propane Hose, Battery |
| Warranty | 3 Years |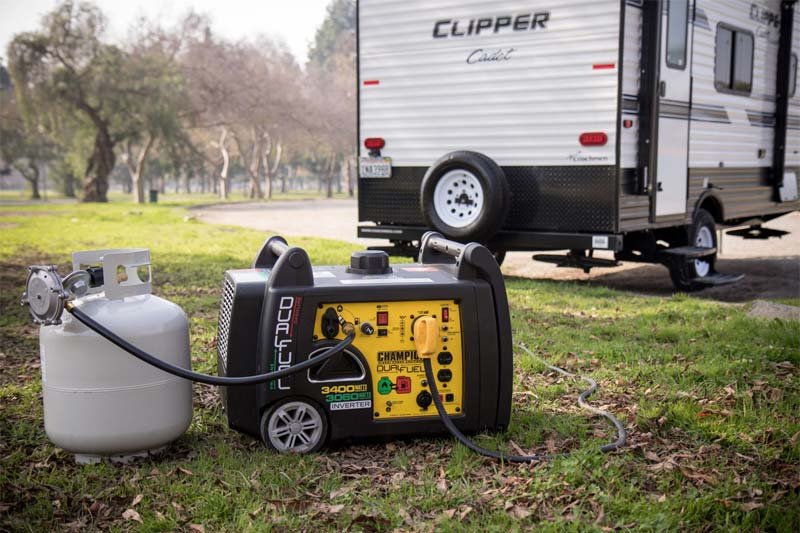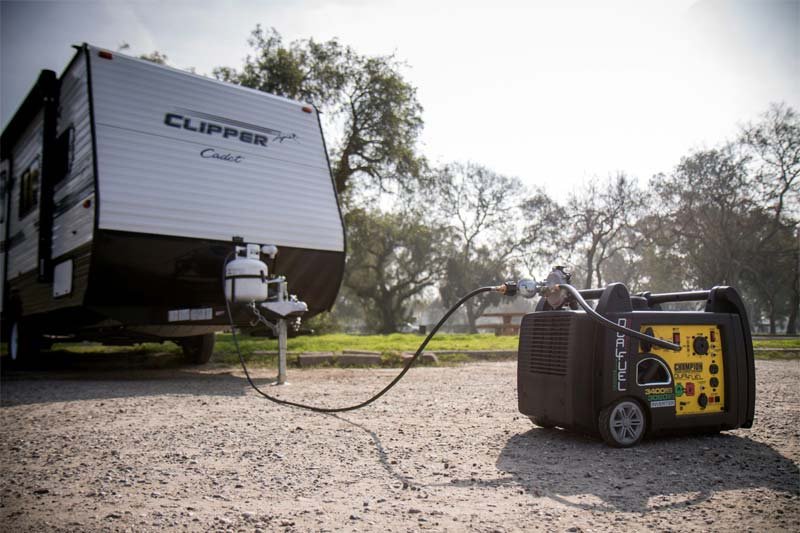 Champion 100263 Reviews
0 out of 5 stars (based on 0 reviews)
There are no reviews yet. Be the first one to write one.
Champion 100263 Additional Information