DuroStar DS4000S Generator
The DuroStar DS4000S generator is an inexpensive yet powerful 7.0 hp air-cooled engine generator. It has a rated wattage of 3300W and a starting wattage of 4000W.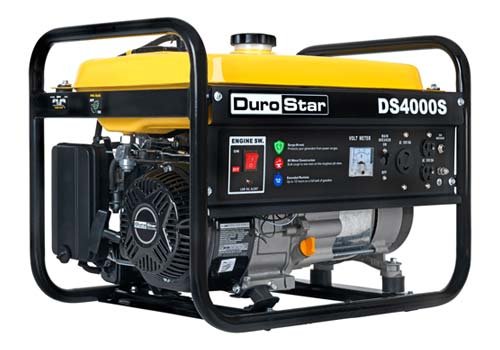 Rated Watts:
3300W
Peak Watts:
4000W
Max Runtime:
14h
(@50%)
Start:
Recoil
Emissions:
EPA, CARB
Fuel Type: Gasoline
Noise Level: 69 dBA
Item Weight: 95 lbs
RV Ready: No
Inverter: No
DuroStar DS4000S Description
Starting at 3300W and peaking at 4000W, the DuroStar DS4000S generator has enough power to run home essentials, such as refrigerators, stoves, and other small appliances around the house. It can also easily handle multiple jobs at a time.
When it comes to fuel consumption, this generator only uses about four gallons of gas while continuously running at 50% load for over eight hours. Generators of the same price usually consume eight to ten gallons if run continuously, making the DS4000S cost-effective.
Moreover, it has a Low Oil Shutoff function that automatically turns the generator off if the machine detects low oil values, further increasing its longevity.
The DuroStar DS4000S complies with Emissions Standards and has excellent ratings by the California Air Resources Board (CARB) and the Environmental Protection Agency (EPA). As such, the DS4000S is as environmentally friendly as it is safe. It's easy to maintain and operate, as well.
It's tough to find a generator with the same power and functionality as the DuroStar DS4000S at the price point it comes with. It's easy to use, fuel-efficient, compact, and has decent power output. As long as it's maintained regularly, you'll have a functioning generator that'll last years and years. After all, it's one of the best value portable generators in the market.
Power and Runtime
As mentioned earlier, the DuroStar DS4000S has a running power of 3300W and peaks at 4000W. A four-gallon fuel tank is enough to continuously operate appliances such as your TV, refrigerator, air conditioner, and several lightbulbs for up to eight hours before dying down.
It's powerful enough to run most of your home essentials during an outage for several days, as long as you know which appliances to prioritize.
Outlets and Ports
For maximum compatibility, the power panel found in the DuroStar DS4000S includes two 120V household outlets and a single 120V 30A twist lock outlet to avoid unintentional unplugging. On top of that, the DS4000S also comes with a voltmeter that allows you to measure the appliance's voltage you want to operate.
Features
Along with the moderate price, users praise the DuroStar DS4000S for the multiple features it comes with. This includes the following:
Powerful Engine
The Durostar DS4000S operates on a 7.0 hp air-cooled overhead valve engine (OHV), making it much more efficient and lighter in weight than water-cooled engines.
Moreover, this type of OHV is particularly advantageous for users who live in areas with extreme climatic conditions, as there is little to no risk of damage from frost or excessive heat.
Low-Oil Shut Down
Improper oil maintenance is one of the biggest and most common mistakes a generator owner can make. Insufficient lubrication can prematurely damage the engine's internal parts, resulting in poor performance and, in some cases, generator failure.
Luckily, the DuroStar DS4000S has a Low-Oil Shut Down mechanism that automatically turns the generator off when it's low on oil. This prevents any internal damage due to little or no lubrication, thus increasing the lifespan of your generator.
Fuel Gauge
There's a surprisingly large number of generators that either has difficult-to-read gauges or don't have them at all. For a while, this has become a big pet peeve of mine. Thankfully, the DuroStar DS4000S' fuel gauge is placed close to the gas cap, right where it's meant to be. It's large and visible.
There are only two downsides I can think of in this part of the generator. One, it doesn't come with an electric starter. Two, the oil tank fill hole is a bit difficult to get to. However, these are minor inconveniences that can be easily resolved or ignored, considering all the advantages.
Easy-to-Use Recoil Pull Starter
The Durostar DS4000S is extremely easy to set up and use. All you'll have to do is remove the packing brace using the included brace removal tool, then fill the generator with the required oil and fuel. Afterward, you'll be able to start using it immediately.
Simply turn on the engine switch, firmly pull the recoil start, open the choke, and turn on the main circuit breaker. That's it! You're good to go. The display hub and start switch make the whole process a breeze. No guesswork is needed with this one, folks!
Warranty and Other Services
The DuroStar DS4000S generator is backed with a one-year warranty and full customer service. DuroStar also explicitly states that the machine's emissions control system has a two-year warranty, so that's a good plus!
Size and Weight
Weighing approximately 95 lbs, the DuroStar DS4000S is considered a mid-weight portable generator. It's neither too big nor too small, measuring 24 x 17 x 17 inches (L x W x H). It's compact enough to store out of the way in most locations.
DuroStar also sells a DS4000S-WK Wheel Kit for easy transportation. Along with two sturdy never-flat wheels, the kit comes with a center pull handle and several other accessories.
Noise Level
The DuroStar DS4000S is neither too loud nor too quiet. However, for such a large and powerful machine, it's undoubtedly one of the most silent generators out there.
According to the manufacturers, the DS4000S has a noise level of approximately 69dB. Its heavy steel frame also comes with isolated motor mounts, which reduces the noise it produces during operation.
For reference, a 69dB sound is precisely as loud as a central air conditioner or a normal conversation. Constant exposure to this level of noise is safe and doesn't have any damaging effects.
Regardless, as most generators, it's best to place it far from your residence so you can enjoy relative peace and tranquility.
Emissions
Approved by the EPA and CARB, it's safe to say that the DuroStar DS4000S complies with Emission Standards. This means that this generator is designed to have the lowest possible emission rate to make it as environmentally friendly as possible.
DuroStar DS4000S Specs (Specifications)
POWER
| | |
| --- | --- |
| Running Watts | 3300W |
| Starting Watts | 4000W |
| Running Amps | 27.5 amps |
| Starting Amps | 33.3 amps |
| Voltage | AC: 120V 60 Hz |
| Runtime (25% Load) | - |
| Runtime (50% Load) | 12 hours |
General
| | |
| --- | --- |
| Fuel Type | Gasoline |
| Engine | 208 cc DuroStar OHV 4-stroke |
| Starting System | Recoil |
| Portable | Yes |
| Inverter | No |
| RV Ready | No |
| Parallel Capable | No |
Features
| | |
| --- | --- |
| AC Outlets | 1x Duplex 120V 20A (5-20R), 1x 120V 30A (L5-30R) |
| DC Outlets | - |
| GFCI outlets | No |
| Covered Outlets | No |
| Automatic Voltage Regulation | Yes |
| Fuel Tank Size | 4.0 gal |
| Fuel Gauge | Yes |
| Data Center | Voltmeter |
| Indicators | Low Oil |
| Bluetooth | No |
Miscellaneous
| | |
| --- | --- |
| Brand | DuroStar |
| Model # | DS4000S |
| Weight | 95 lbs |
| Dimensions (L x W x H) | 24 x 17 x 17 inches |
| Noise Level | 69 dBA |
| Emissions | EPA, CARB |
| THD | < 12% |
| Security | Low Oil Protection, Overload Protection |
| Neutral | Floating |
| Spark Arrestor | Yes |
| Accessories Included | Oil Funnel, Spark Plug Wrench, Tool Kit |
| Warranty | 3 Years |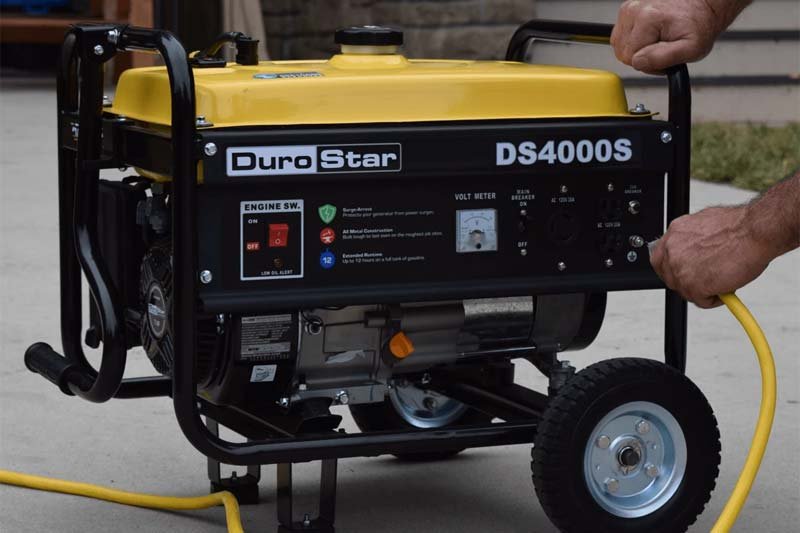 DuroStar DS4000S Reviews
0 out of 5 stars (based on 0 reviews)
There are no reviews yet. Be the first one to write one.
DuroStar DS4000S Additional Information