Generac GP2200i Generator
The Generac GP2200i is a compact, fully parallel generator that utilizes TruePower Technology. It has a starting wattage of 2200W and a rated wattage of 1700W.
Rated Watts:
1700W
Peak Watts:
2200W
Max Runtime:
10.75h
(@25%)
Start:
Recoil
Emissions:
CARB
Fuel Type: Gasoline
Noise Level: -
Item Weight: 46.6 lbs
RV Ready: No
Inverter: Yes
Generac GP2200i Description
The Generac GP2200i has an OHV 4-stroke engine. The generator operates using a traditional pull-start mechanism.
The generator utilizes TruePower technology which produces power that is compatible and safe for sensitive electronics.
Some electronics are more sensitive than others when it comes to power surges. By drastically minimizing harmonic distortion, TruePower technology ensures your electronic devices remain undamaged and can run smoothly.
Fans, coffee makers, slow cookers, radios, hairdryers, and even LCD televisions are but a few of the electronics that the GP2200i generator can power.
It's an excellent portable source of energy. The environmental impact of this model is minimal compared to other generators, as corroborated by its EPA-approved and CARB-compliant certifications.
The generator is super easy to use, transport, and repair. This unit has a wide range of outlets which makes it more adapted to modern-day technology.
However, it's not the quietest option on the market. It might not be compatible with all residential areas.
Power and Runtime
The GP2200i has a starting wattage of 2200 watts, a running wattage of 1700 watts, and an output of 120 volts.
With such a high starting and running wattage, the GP2200i can even power an off-the-grid construction site.
The GP2200i generator has a 1.2-gallon fuel tank. The size of the tank is much larger than those in most generators of the same size.
This tank size accounts for the very long run time that the generator has. With a half-full tank, this generator has a 7-hour run time.
The large tank isn't the only thing that accounts for the generator's run time. The generator has an Eco mode option. This feature allows you to reduce fuel consumption and save money with a simple push of a button.
However, it's essential to note that this mode will not be compatible with all devices. Larger appliances that require a higher running wattage, like an air conditioner, won't work if the generator is on Eco mode.
Outlets and Ports
Many generators suffer from a lack of outlets. This is a shortcoming that the GP2200i overcomes. The generator has two 120VAC outlets along with a USB port and a cigarette plug (12VDC).
These outlets would be a huge benefit to customers who have modern devices like smartphones. An advantage that not all Generac generators have. In fact, this is one of the shortcomings of the popular Generac IQ2000 model.
Features
There are many characteristic features that make the GP2200i worth the purchase. Some of the most important characteristics to note include:
Fully Parallel Capable
One of the features that make the GP2200i so appealing to customers is that it's fully parallel. Because it is parallel, you'll be able to plug it into another GP2200i generator.
Connecting generators together means that they can both be used simultaneously, which will enable you to muster up more power. Make sure to use a suitable parallel kit, though.
Easy to Use Dial
The generator also has an exceptionally easy-to-use start dial. There are three modes for users to choose from; run, choke and stop.
The choke option restricts the flow of air. The air restriction provides the cold generator with an enriched fuel mixture to ensure a smooth start.
This feature makes the generator easy to use even for the most inexperienced user.
Warranty
For those who continually suffer from damaged electronics in need of repair, Generac has an impeccable customer service reputation.
Generac is a respectable American company. Not only are they efficient when it comes to dealing with any arising issues, but they also offer 3-5 year warranties for their generators.
These warranties are available regardless of whether the purchased generator is for commercial or residential use.
However, it's crucial to note that customers should refer to the warranty policy as not all parts may be covered.
Maintenance Kits
Periodic checkups are recommended every six months. Those who are more comfortable with taking their generator's maintenance into their own hands can cut down on maintenance costs significantly.
Generac makes this easy for you! They offer an official maintenance kit on their website. This kit comes equipped with air filters, oil filters, spark plugs, oil bottles, and everything you'll need for regular maintenance checks.
Size and Weight
The Generac GP2200i is built from extremely lightweight material. It weighs approximately 46 pounds and measures 19 x 11 x 17 inches.
It's also quite compact and has a convenient carrying handle. These features make it incredibly easy to transport.
Noise Level
Regrettably, this generator isn't the quietest option available on the market. The unit produces approximately 60-70dB of noise.
While this doesn't make it the loudest option on the market either, it could be an issue in some residential areas.
Some areas have a noise restriction of 50dB. If this is the case for the location you are planning on using your generator, it might not be the best fit.
If you are looking for a quieter version, Generac has the IQ2000 model. The IQ2000 model has a noise rating of approximately 50dB. You'd be sacrificing a little bit of the power for a little less noise.
Emissions
The generator is both EPA-approved and CARB-compliant, which basically means you can use it in all 50 states without a permit. This also means that it has little impact on the environment.
Other Important Information
The GP2200i doesn't seem to have many gripes. However, you should note that this generator doesn't have a data center or an electric start.
Generac GP2200i Specs (Specifications)
POWER
| | |
| --- | --- |
| Running Watts | 1700W |
| Starting Watts | 2200W |
| Running Amps | 14.2 amps |
| Starting Amps | 18.3 amps |
| Voltage | AC: 120V 60 Hz, DC: 12V |
| Runtime (25% Load) | 10.75 hours |
| Runtime (50% Load) | 7 hours |
General
| | |
| --- | --- |
| Fuel Type | Gasoline |
| Engine | 80cc Generac OHV 4-stroke |
| Starting System | Recoil |
| Portable | Yes |
| Inverter | Yes |
| RV Ready | No |
| Parallel Capable | Yes |
Features
| | |
| --- | --- |
| AC Outlets | 1x Duplex 120V 20A (5-20R) |
| DC Outlets | 1x 12V 8A, 1x 5V USB port |
| GFCI outlets | No |
| Covered Outlets | Yes |
| Automatic Voltage Regulation | Inverter |
| Fuel Tank Size | 1.2 gal |
| Fuel Gauge | No |
| Data Center | No |
| Indicators | Low Oil, Overload, Output Ready |
| Bluetooth | No |
Miscellaneous
| | |
| --- | --- |
| Brand | Generac |
| Model # | GP2200i |
| Other Known Model # | 7117 |
| Weight | 46.6 lbs |
| Dimensions (L x W x H) | 19.7 x 11.4 x 17.9 inches |
| Noise Level | - |
| Emissions | CARB |
| THD | < 3% |
| Security | Low Oil Protection, Overload Protection |
| Neutral | Floating |
| Spark Arrestor | Yes |
| Accessories Included | Oil Funnel |
| Warranty | 2 Years |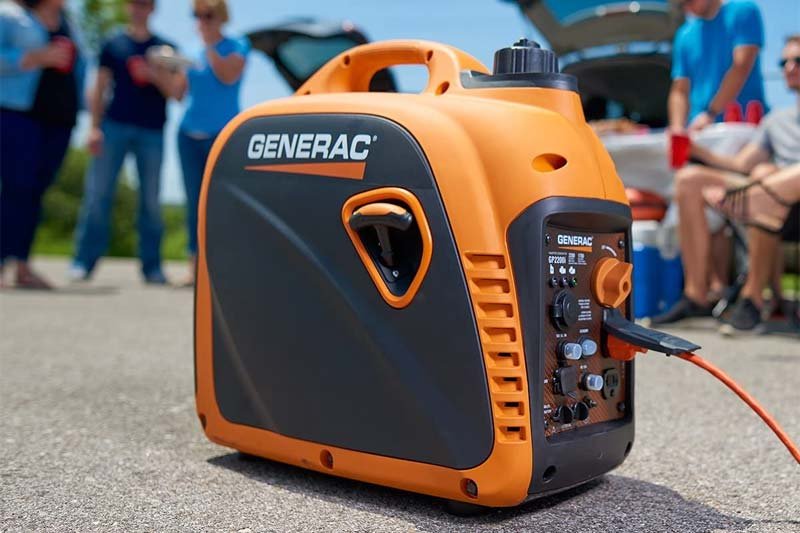 Generac GP2200i Reviews
0 out of 5 stars (based on 0 reviews)
There are no reviews yet. Be the first one to write one.
Generac GP2200i Additional Information