The Generac GP5500 is a portable, sturdy, and open framed generator. It has a rated wattage of 5500W and a starting wattage of 6875W.
Rated Watts:
5500W
Peak Watts:
6875W
Max Runtime:
10h
(@50%)
Start:
Recoil
Emissions:
EPA
Fuel Type: Gasoline
Noise Level: -
Item Weight: 170.9 lbs
RV Ready: No
Inverter: No
Generac GP5500 Description
Power outages happen, and they can range from being an inconvenience for homeowners, to a costly matter for business owners. Having a reliable, affordable, and powerful generator makes both of these situations avoidable. Plus, being RV Ready it becomes useful to power up all camping requirements too.
Generac has been in the power business for more than six decades, so it's not surprising that it's the world leader in home backup generators. This is a brand that we can trust.
The Generac GP5500 is among the best solutions for various residential, commercial, and recreational applications. Thanks to its portability, consistent power output, and durability, it's quite popular among a wide variety of users.
It also comes at a moderate price, which attracts many users, who might otherwise be intimidated by the high price tag on similar models.
Power and Runtime
The first parameter that we look at in any gen is how much power and for how long. The GP5500 is among the high-capacity generators that can be used to power multiple appliances for half a day.
It's a 120/240 V gen with a rated-power of 5500W and a peak-power of 6875W. These values can easily supply the needs of a house, a food truck, or an RV throughout a power outage. Also, this is more than enough electricity for the usual activities of camping or tailgating.
This gen has a 389 cc Generac OHV, which is a 4-stroke engine. There's no electric start here, just the good old recoil. It runs on gasoline, and the fuel consumption of the GP5500 is around 0.72 GPH, with a fuel capacity of 7.2 gallons.
You can expect it to deliver around 10 hours at 50% load with a full tank. Which might not be the highest run-time or efficiency in this category, with some generators reaching 15 hours easily. The Caterpillars easily come to mind, but then again, they come with a much higher price tag.
This gen comes with automatic voltage regulation, but still, it has a somewhat high THD slightly below 20%. Thus, it may not be the best source to operate sensitive electronic devices, unless you connect a UPS to the outlets.
Outlets and Ports
The GP5500 comes with 5 covered AC outlets, and no DC outlets. The outlets are further divided into twin Duplex 120V 20A (5-20R), plus, a single 120/240V 30A (L14-30R) twist-lock receptacle. The latter is especially useful for direct connection to the house breaker box.
This arrangement is suitable for operating 4 appliances at a time, which is quite sufficient for domestic or recreational usage. It's also well suited to the max power that this gen can supply simultaneously.
Features
This generator has some interesting features that make it an appealing device, despite a few missing luxuries. Here are some of its strong points.
Durable Engine With Fuel Gauge
The Generac 389cc OHV engine is among the sturdiest in this class. It's fitted with a fuel gauge, so you wouldn't get any nasty surprises, and regularly keep the tank full.
Durable Engine With Fuel Gauge
Regular maintenance is among the main predictors of a generator's lifespan. And it's something many of us often delay or miss out on completely.
To get your timing correct, this gen has an hour meter that tracks your actual usage from one maintenance visit to the next. Besides, you'd also see reminders of when a routine checkup is due.
Auto Shutdown at Low-Oil Level
In continuation with the previous point, the GP5500 gen will shut down automatically, if the oil level falls below a critical set point. This protects the motor from malfunction and various other mechanical issues.
Circuit Breaker Protected Outlets
Electric overload is an ever-present threat to any power supply. That's why it's good to have a circuit breaker that disconnects upon sensing an overload.
Heavy Duty Wheels
Few generators come with wheels, and when they do, you can't always ensure their durability. This set here is made for stability and longevity. The manufacturer describes these wheels as 'never flat'.
Fold-Down Handle
A dry weight of 180 lbs can be a bit heavy to carry around from place to place. That's why the handle and cartwheel-style design is necessary to facilitate its movement. The handle then folds down, when not in use, to keep the envelope of the frame streamlined.
High-Strength Cradle
Open-frame generators have a reputation of being less sturdy than the closed ones, however, the Generac debunks this rumor completely. It's made from a 1 1/4″ steel tube that's hardened for extra strength.
Size and Weight
At 180 lbs dry weight, the Generac GP5500 isn't exactly featherlight, and it does lean on the heavy side when compared to its peers. However, the sturdy wheels attached to its frame make it quite easy to move around.
It doesn't take up too much space as it measures 28.75 x 26.75 x 25 inches. This is pretty much the norm for a gen of that power rating, and it usually fits within the available spaces in your home or work settings. You might take a few measurements though if you're tailgating and your car has a sliding cover.
Noise Level
The specific noise level of the Generac GP5500 is not specified in the datasheet. As an open frame gen, we don't expect it to be too quiet. However, it's fitted with a low-tone muffler, which decreases the noises significantly.
You can thus operate it at your house, at work, or while camping. It shouldn't be too disturbing to you or your surroundings.
Emissions
For a moderately priced gen, the GP5500 sure comes with plenty of features. But low emissions isn't exactly one of its strongest points. It's EPA-approved, which allows it to be used in various states except for California, since it's not CARB or CSA compliant.
Generac GP5500 Specs (Specifications)
POWER
| | |
| --- | --- |
| Running Watts | 5500W |
| Starting Watts | 6875W |
| Running Amps | 45.8 amps (120V) / 22.9 amps (240V) |
| Starting Amps | 57.3 amps (120V) / 28.6 amps (240V) |
| Voltage | AC: 120/240V 60 Hz |
| Runtime (25% Load) | - |
| Runtime (50% Load) | 10 hours |
General
| | |
| --- | --- |
| Fuel Type | Gasoline |
| Engine | 389cc Generac OHV 4-stroke |
| Starting System | Recoil |
| Portable | Yes |
| Inverter | No |
| RV Ready | No |
| Parallel Capable | No |
Features
| | |
| --- | --- |
| AC Outlets | 2x Duplex 120V 20A (5-20R), 1x 120/240V 30A (L14-30R) |
| DC Outlets | No |
| GFCI outlets | No |
| Covered Outlets | Yes |
| Automatic Voltage Regulation | Yes |
| Fuel Tank Size | 7.2 gal (Steel) |
| Fuel Gauge | Yes |
| Data Center | Lifetime Run Hours |
| Indicators | No |
| Bluetooth | No |
Miscellaneous
| | |
| --- | --- |
| Brand | Generac |
| Model # | GP5500 |
| Other Known Model # | 5939 |
| Weight | 170.9 lbs |
| Dimensions (L x W x H) | 27.5 x 27 x 25 inches |
| Noise Level | - |
| Emissions | EPA |
| THD | < 20% |
| Security | Low Oil Protection, Overload Protection |
| Neutral | Bonded |
| Spark Arrestor | Yes |
| Accessories Included | Oil Funnel, Wheel Kit |
| Warranty | 2 Years |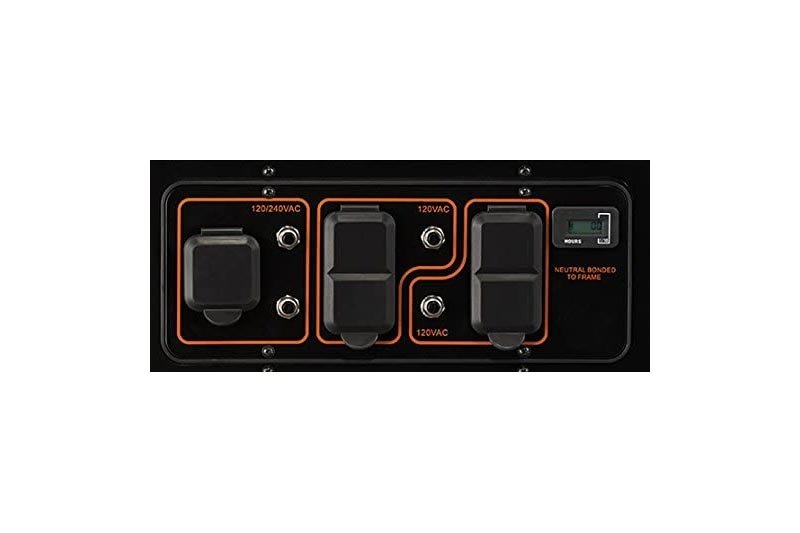 Generac GP5500 Reviews
0 out of 5 stars (based on 0 reviews)
I bought this heater because I live in a camper and it's not always warm enough when the temperatures drop. It keeps my bedroom nice and toasty on cold nights, even at 1/3 of max! This little guy is so quiet too- you can barely hear him hummin'.
One of the best features about this plug-in heater is that it's small and lightweight. It definitely does its job, but you need to make sure not to use it for too long so you don't overheat your outlet or blow a fuse.
Wow, this thing is awesome (Lasko 754200)! I was living in a dorm room and the central heating went out so it got really cold. The description said that this little heater could only heat up small spaces or under desks but honestly? This thing heated my entire bedroom as outdoor temps dropped into the 20s .
I think my heater might be defective. I've had it for a few days now and no matter how hard I try, the cord gets super hot. As far as I'm concerned, this thing doesn't work right. Plus there are these awful fumes coming out of it too which makes me really wonder what exactly is going on with this piece of junk?
Great Heater for Medium-Sized Spaces
The Vornado vh200 heater is one of the better we've tried. After some research, it was clear this little machine had fast and efficient heating that retained a lot of heat (even at night) without overheating or making too much noise. The only downside? It's not perfect for large spaces – but you can't expect to get everything with one appliance! Plus, I love how sleek and simple the design looks in our living room anyways.
Generac GP5500 Additional Information