Generac GP8000E Generator
The Generac GP8000E portable RV Ready Generator with a rated wattage of 8,000W and a starting wattage of 10,000W. It's perfect for running some of the most demanding household essentials and RV electronics.
Rated Watts:
8000W
Peak Watts:
10000W
Max Runtime:
11h
(@25%)
Start:
Electric, Recoil
Emissions:
EPA
Fuel Type: Gasoline
Noise Level: -
Item Weight: 198 lbs
RV Ready: No
Inverter: No
Generac GP8000E Description
The Generac GP8000E is a portable and robust generator that's fit for both home use and the outdoors. It's fitted with a 7.5-gallon fuel tank that allows for an 11-hour run time.
Portability is one of the many strong points this generator boasts. It's equipped with a pair of rolling wheels and an ergonomic locking handle. The former helps maintain mobility, whereas the latter keeps handling and storage easy.
It doesn't produce much noise, either, considering its tremendous output. Granted, it's not the quietest option out there, but such a powerful generator cannot be tamed easily.
It emits around 70 decibels' worth of noise, which is pretty decent compared to some of the other options in its class.
The GP8000E includes Generac's distinctive and powerful OHV engine. With splash lubrication, this gasoline-powered engine promises to last a long time.
It's also equipped with covered outlets, which enhance protection. It also helps prevent tough working conditions from affecting the unit.
Additionally, this generator features an electric start function with a recoil backup. It also has an hour meter that helps track maintenance intervals, in addition to a fuel gauge that provides vital information with regard to fuel levels.
There's a special feature that automatically shuts down the engine when oil levels are low. This extra detail helps protect the 420cc engine from any potential damage.
The Generac GP8000E advertises what is called "PowerRush Advanced Technology." This term is a fancy way of saying that this generator boasts an impressive peak load capacity, which, as we already established, is around 10,000W.
Power and Runtime
The GP8000E has a large-capacity steel fuel tank that allows it to run up to 11 hours at 50% load. Furthermore, it can run for 17.5 hours at 25% load.
As for power, this generator has a running load of 8,000W and a surge load of 10,000W. This is enough to supply most household appliances during a power outage.
Outlets and Ports
This Generac generator has five circuit-breaker protected outlets. All five are water-resistant, and they automatically shut down when oil levels run low. These outlets include:
1x 20A 120V (5-20R) standard outlet
1x 30A 120/240V (L14-30R) receptacle
1x 30A 120V (L5-30R) receptacle
2x 5V USB ports
The GP8000E is equipped with a transfer switch, meaning it can easily be connected to a breaker box during power outages using the twist-lock L14-30R receptacle.
Features
The GP8000E has a long list of features. Here's a quick rundown of the major ones.
PowerRush Advanced Technology
This generator is equipped with PowerRush Advanced Technology, which provides more than 30% of the unit's starting capacity. This little feature makes all the difference, as it allows the generator to muster up a ton of power without exhausting its fuel tank.
Large-Capacity Fuel Tank
The GP8000E has a reliable steel fuel tank that provides up to 11 hours of runtime at 50% load. It also features an incorporated fuel gauge that significantly boosts its durability.
Portable
The Generac GP8000E generator is supplied with a pair of heavy-duty wheels, facilitating portability. Additionally, it has a fold-down handle, which makes it easier to store and move around.
Since the unit is portable, it can be also used for outdoor activities such as camping and tailgating.
Low-Oil Shut-Down
When oil levels drop low, the generator is able to detect it and automatically shuts off. This protects the engine from any possible damage.
Steel-Tube Cradle
Framing the GP8000E is a 1.25" steel-tube cradle, which helps add to its durability and does an excellent job of keeping the entire unit sturdy and robust.
Protected Outlets
This generator is armed with covered outlets. The covering helps preserve the outlets from the surrounding environment and prevent harsh working conditions from chipping away at the unit, keeping it in great shape.
3-Way Ignition Start
There are three ways to start this generator: electric start, remote start, and recoil start. With the electric start, you can start up the generator from 109 yards away with a push of a button.
Size and Weight
The GP8000E isn't a lightweight generator, which is to be expected from such a powerful unit. It weighs around 197 pounds, so it might not seem easy to move.
However, the handle and the wheels help facilitate portability. Moreover, the dimensions of this generator are L27.2 x W27 x H26.5 inches, so it's fairly compact compared to other competitor generators from the same class.
With its stable yet rugged frame, it's ideal for use in tough environments and conditions.
Noise Level
The GP8000E's noise level is rated at 70 decibels, which isn't louder than average office noises. While it's safe, 70 decibels isn't the most comfortable level of noise for campsite use.
However, 70 decibels of muffled noise is appropriate for home use and shouldn't be a source of annoyance to your neighbors.
Emissions
The Generac GP8000E generator is both OSHA, EPA, and CARB-compliant, so you don't have to worry about its emissions being harmful to the environment.
It's also worth noting that the GP8000E can be used in forested areas since it's equipped with a spark arrestor.
Other Important Information
This gasoline-powered generator runs on a 420cc Generac OHV4-stroke engine. It features both a recoil starting system and an electric starting system.
At a 50% load, this generator will run up to 11 hours. However, when the load drops to 25%, it can run up to a whopping 17.5 hours. The 7.9-gal fuel capacity contributes significantly to the remarkable runtime.
Generac GP8000E Specs (Specifications)
POWER
| | |
| --- | --- |
| Running Watts | 8000W |
| Starting Watts | 10000W |
| Running Amps | 66.7 amps (120V) / 33.3 amps (240V) |
| Starting Amps | 83.3 amps (120V) / 41.7 amps (240V) |
| Voltage | AC: 120/240V 60 Hz |
| Runtime (25% Load) | - |
| Runtime (50% Load) | 11 hours |
General
| | |
| --- | --- |
| Fuel Type | Gasoline |
| Engine | 420cc Generac OHV 4-stroke |
| Starting System | Electric, Recoil |
| Portable | Yes |
| Inverter | No |
| RV Ready | No |
| Parallel Capable | No |
Features
| | |
| --- | --- |
| AC Outlets | 2x Duplex 120V 20A (5-20R) GFCI, 1x 120/240V 30A (L14-30R) |
| DC Outlets | No |
| GFCI outlets | Yes |
| Covered Outlets | Yes |
| Automatic Voltage Regulation | Yes |
| Fuel Tank Size | 7.9 gal (Steel) |
| Fuel Gauge | Yes |
| Data Center | Lifetime Run Hours |
| Indicators | No |
| Bluetooth | No |
Miscellaneous
| | |
| --- | --- |
| Brand | Generac |
| Model # | GP8000E |
| Other Known Model # | 7686 |
| Weight | 198 lbs |
| Dimensions (L x W x H) | 27.2 x 27 x 26.5 inches |
| Noise Level | - |
| Emissions | EPA |
| THD | < 20% |
| Security | Low Oil Protection, Overload Protection |
| Neutral | Bonded |
| Spark Arrestor | Yes |
| Accessories Included | Oil Funnel, Battery, Wheel Kit |
| Warranty | 3 Years |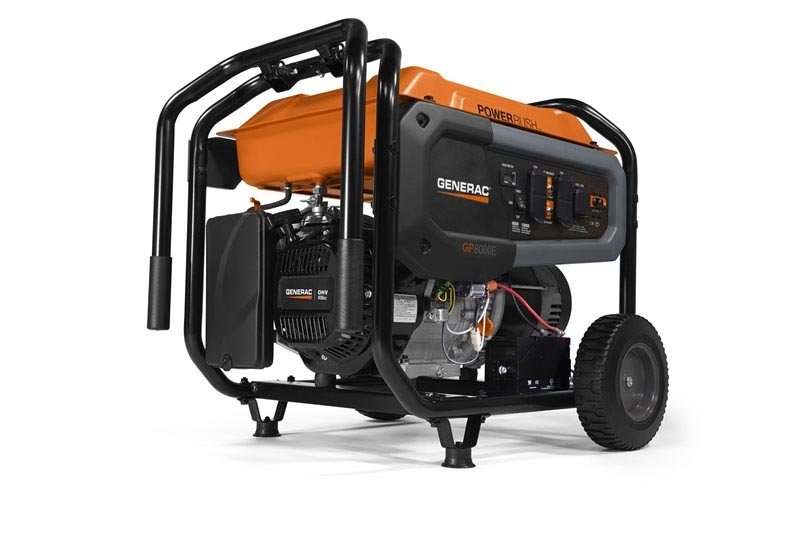 Generac GP8000E Reviews
0 out of 5 stars (based on 0 reviews)
There are no reviews yet. Be the first one to write one.
Generac GP8000E Additional Information