The Generac IQ2000 is a compact, lightweight, and fully parallel capable generator that boasts a starting wattage of 2000W and a rated wattage of 1600W.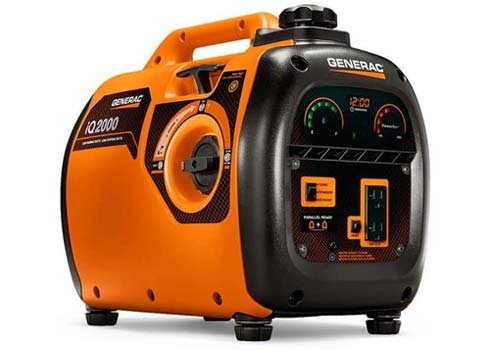 Rated Watts:
1600W
Peak Watts:
2000W
Max Runtime:
7.7h
(@25%)
Start:
Recoil
Emissions:
EPA, CARB
Fuel Type: Gasoline
Noise Level: -
Item Weight: 46.5 lbs
RV Ready: No
Inverter: Yes
Generac IQ2000 Description
Portable generators can be essential during emergencies associated with power cuts. They can also be helpful if you're planning a camping trip but need a power source for your devices.
The Generac IQ2000 is a great portable source of energy. The environmental impact it has in comparison to other generators is minimal, and it has a few certifications proving this.
It's also easy to use, transport and repair. Further, it's one of the quietest available generators on the market.
The Generac IQ2000 has an OHV engine. This engine has three settings; Economical, Regular, and Turbo, allowing you to manually alter the engine's speed based on your power needs at the time of use.
Being able to control the speed of the engine allows you to conserve power if needed and helps reduce noise.
The generator's performance is easy to monitor and control, as it's equipped with a Smart LED dashboard that displays the fuel level, battery life, and operating wattage. There's a power dial that's pretty basic for easy on/off switching.
A unique feature that this model has is its alternator. It helps convert mechanical energy from the engine to electrical energy. It also converts DC output into AC output.
This unit is much more advanced than some of its alternatives. However, it's not equipped to handle high altitudes or multiple large devices. Therefore, its applications may be somewhat limited.
Power and Runtime
The Generac IQ2000 has a running wattage of 1600 watts. It monitors itself internally in order to conserve fuel. That said, the generator has the ability to provide energy for up to seven hours.
The generator can be coupled in parallel with other generators to achieve greater power output. Its compact design helps with that significantly.
The Generac IQ2000 is already a powerful little device, so imagine what it can accomplish when it's connected to other generators?
Outlets and Ports
A variety of devices, mainly phones, now rely on USB ports for charging. To the dismay of many smartphone users, USB connectivity is a feature that isn't available in the IQ2000. The unit only has two AC Duplex 120V 20A (5-20R) outlets.
Features
The Generac IQ2000 has a long list of convenient features. Below is a rundown of some of the most notable features.
Convenience and Practicality
We've mentioned briefly that this generator is easy to use because of the dials and LED screen. However, other features make it even more straightforward to use.
The design of the engine compartment and the fuel cap makes it easier for the user to access. Having easier access cuts down on refueling time and makes any required repairs convenient, cleaner, and more efficient.
Furthermore, the Generac generator's high-tech design enables it to adapt and adjust its output according to the device plugged into it. This allows for a significant reduction in electrical waste.
Compatibility to Devices
Unlike the Generac generator, older generators aren't always compatible with modern devices. With the constant evolution of the technological world, you'll need a generator that's able to keep up with your new devices.
Note, however, that the IQ2000 only has a 120V 20A (5-20R) outlet, meaning if your device doesn't have a suitable plug, it won't be compatible, including devices that need a USB port.
Repairs and Warranty
Most importantly, for those who continually find themselves with damaged electronics in need of repair, Generac has developed a stellar reputation when it comes to customer service.
Since it's a respectable American company, not only are they efficient when it comes to dealing with any arising issues, they also offer a three-year warranty.
Generac's warranty system covers both the machine and the engine, regardless of whether it's for commercial or residential use.
However, it's crucial to note that customers should refer to the warranty policy, as not all parts are covered.
Size and Weight
This generator is made of lightweight material, weighing approximately 46.2 pounds.
This lightweight material, coupled with the compact design, makes the generator extremely easy to transport and store when it's not in use.
Noise Level
Some residential areas have restrictions on the noise level that generators are allowed to have. Since this is one of the quietest generators, if you're planning on using your generator in these areas, this shouldn't be a concern.
Most residential areas have a permissible noise level of 55 dBA. Luckily, this generator has a noise level of approximately 51.5 dBA.
Emissions
As mentioned previously, Generac IQ2000 is quiet and runs with high efficiency, reducing both emissions of pollutants and noise pollution.
For this reason, the generator is both EPA-approved and CARB-compliant, and is available for purchase in all fifty states.
Other Important Information
Like most devices, there must be some downsides to this compact generator. Some of the most significant disadvantages to consider before making a purchase include the following:
High Altitudes
Unfortunately, at higher altitudes, most generators face some performance difficulties. That's an issue that the Generac generator hasn't been able to overcome.
If you're planning on using a generator at high altitudes there are generators designed for those conditions.
Leaking
There are some reported incidences of fuel leaking with the Generac IQ2000. However, this is often due to the carburetor drain being improperly closed. Leaking in this manner is addressed in the user manual.
Such problems are avoidable if you have regular maintenance checks. The IQ2000 should have regular oil checks and air filter replacement.
Keep in mind that a generator is no different than any other device! The more conscious you are with its upkeep, the longer it'll endure.
The Output
Despite the high output that the IQ2000 provides, it's unable to manage multiple large devices at once. For example, it'll be unable to power a refrigerator and air-conditioner simultaneously. Depending on your intended use this may be something to consider.
Generac IQ2000 Specs (Specifications)
POWER
| | |
| --- | --- |
| Running Watts | 1600W |
| Starting Watts | 2000W |
| Running Amps | 13.3 amps |
| Starting Amps | 16.7 amps |
| Voltage | AC: 120V 60 Hz |
| Runtime (25% Load) | 7.7 hours |
| Runtime (50% Load) | 5.7 hours |
General
| | |
| --- | --- |
| Fuel Type | Gasoline |
| Engine | 80 cc Generac OHV 4-stroke |
| Starting System | Recoil |
| Portable | Yes |
| Inverter | Yes |
| RV Ready | No |
| Parallel Capable | Yes |
Features
| | |
| --- | --- |
| AC Outlets | 1x Duplex 120V 20A (5-20R) |
| DC Outlets | No |
| GFCI outlets | No |
| Covered Outlets | No |
| Automatic Voltage Regulation | Inverter |
| Fuel Tank Size | 1.06 gal |
| Fuel Gauge | Yes |
| Data Center | Power Output, Fuel Level, Remaining Run Time |
| Indicators | Low oil, overload and output ready |
| Bluetooth | No |
Miscellaneous
| | |
| --- | --- |
| Brand | Generac |
| Model # | IQ2000 |
| Other Known Model # | 6866 |
| Weight | 46.5 lbs |
| Dimensions (L x W x H) | 20 x 12.6 x 16.9 inches |
| Noise Level | - |
| Emissions | EPA, CARB |
| THD | < 3% |
| Security | Low Oil Protection, Overload Protection |
| Neutral | Bonded to Frame |
| Spark Arrestor | Yes |
| Accessories Included | Oil Funnel |
| Warranty | 3 Years |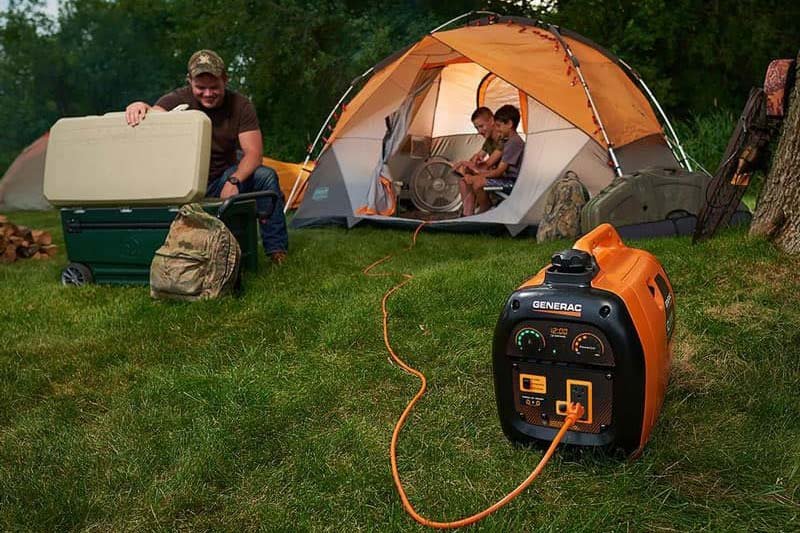 Generac IQ2000 Reviews
0 out of 5 stars (based on 0 reviews)
There are no reviews yet. Be the first one to write one.
Generac IQ2000 Additional Information