The Honda EU1000i is a powerful yet compact and ultra-quiet portable inverter generator that can muster up a rated wattage of 900W and a starting wattage of 1,000W.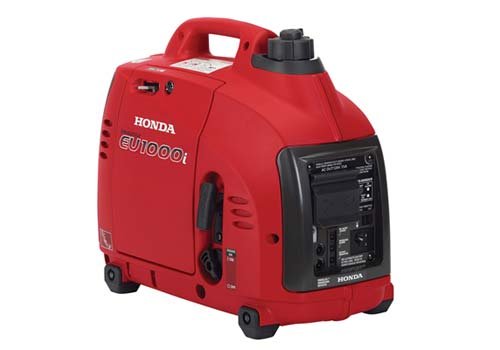 Rated Watts:
900W
Peak Watts:
1000W
Max Runtime:
6.8h
(@25%)
Start:
Recoil
Emissions:
EPA, CARB
Fuel Type: Gasoline
Noise Level: 42 dBA
Item Weight: 28.7 lbs
RV Ready: No
Inverter: Yes
Honda EU1000i Description
Whether you're planning for a camping trip or simply need a backup power source for power outages, finding the correct generator is important.
The Honda EU1000i is among the most notable options on the market, primarily because of its compact build, quiet performance, and relatively high wattage. Honda, after all, is a brand well known for its reliable, high-quality offerings.
The generator weighs around 29 pounds and can muster up a rated wattage of 900W. You can use the Honda EU1000i to power a host of electronics appliances, from fans and televisions to coffeemakers and small microwaves.
Safety plays a key role in all of Honda's products. When oil levels run low in the EU1000i, its oil alert system is activated, automatically shutting off the generator before any harm is done.
The Honda EU1000i is also equipped with circuit protection that helps prevent overloading. To put it differently, if the unit is connected to more appliances than it can handle, circuit protection will be engaged to protect the generator from any overloading.
Honda is a brand that focuses primarily on putting out reliable, high-quality products that last a lifetime. As a result, the EU1000i is a bit on the pricier side. It offers a ton of value for the price, though.
The EU1000i is perfect for outdoor use and features inverter technology, which adds up to its versatility. It's, without a doubt, one of the best generators in the 1,000W category.
Power and Runtime
The EU1000i's engine, the GHX50, is a robust 4-stroke, 49 cubic centimeters (cc) powerhouse. Its peak load capacity is 1,000W, whereas its AC power output is at 900W for a continuous load.
This economical generator has a 0.6-gal fuel tank that's able to provide a run time of around 3.8h when operating at maximum capacity.
If the unit is running on a load between 25% and 50%, it could run for up to 7h or more.
All the mentioned equipment is CARB-compliant, which means that it produces less harmful particulates, toxins, and emissions, which results in safer and cleaner air quality.
Outlets and Ports
Another convenient feature of the EU1000i generator is that it's not limited to its 900W/1,000W power output.
Thanks to its parallel ports, it allows you to connect and combine one or more Honda generators that feature parallel functioning. Once connected, you'll be able to run the generators together at cumulative levels of power.
For instance, if you decide to utilize two 1,000W generators together, you'll have 2000 watts of power produced. This basically means that with the aid of two or more Honda generators, you can run devices that require more than 1,000W to run.
Features
The Honda EU1000i generator is packed with a host of convenient features; most notable of which are:
Eco-Mode and Refueling-Alert
If you want a generator that cuts down fuel costs and fuel consumption, the EU1000i is right up your alley. Upon activating this generator's Eco-Mode switch, the engine's performance will be altered to meet the impeded load, reducing fuel consumption.
If the generator is running short on gas, the engine automatically shuts down, letting you know that your generator needs refueling.
The Honda EU1000i also has an automatic low oil shut-off system, aptly called Oil Alert. As the name suggests, this feature alerts you when the generator's oil level is too low.
The Oil Alert feature eliminates all guesswork and it helps prevent the machine from damaging its internal parts due to low lubrication.
That said, the fuel gauge isn't the most visible, so oil change can be a little tricky. Once you get the hang of it and know what to look for, however, it'll be a walk in the park.
CO-Minder
Honda is the first brand to install a carbon monoxide detection system in its generators, and it's ingenious.
In a nutshell, the CO-Minder is an advanced carbon monoxide (CO) detection system found in the Honda EU1000i. It works by continuously monitoring and measuring the carbon monoxide levels the machine emits in the air.
When the generator detects dangerously high levels of carbon monoxide, it automatically shuts down. This is extremely useful as carbon monoxide poisoning can lead to serious neurological symptoms. Long-term exposure can cause nausea, headaches, vomiting, drowsiness, and even death.
Warranty and Maintenance
Honda offers a great warranty for this product. You'll get one year of commercial warranty and two years of residency warranty.
Size and Weight
The EU1000i weighs about 29 pounds and measures 19.8 x 13.25 x 22.31 inches for easy carry. It's equipped with a couple of standard 120V outlets and a single 12V DC outlet that you can use for charging the batteries.
Unlike traditional generators, this unit isn't equipped with an electric starter, and so you'll need to use a recoil starter for it to work. The EU1000i's engine is fairly small, though, so it shouldn't be hard to start it.
The generator is remarkably compact and portable compared to other units within its class. So, no matter where you decide to take it, it won't be a source of hassle at all.
Noise Level
One of the main reasons why many people opt for the Honda EU1000i generator over a lot of other alternatives in its class is its remarkably low noise levels.
At half capacity, the EU1000i produces a noise level of around 53dB. At full capacity, its noise level hovers around 59dB. So, even at full power, this unit's noise level is much lower than the noise emitted by traditional generators.
This is great news for people who love to go out camping and those who use the generator in residential areas.
Emissions
The Honda EU1000i is reviewed and approved by the United States Environmental Protection Agency (EPA) and the California Air Resources (CARB). This means that it's safe for the environment and complies with Emission Standards.
On top of that, this generator is designed with a spark arrestor, making it suitable to use in heavily forested areas.
Honda EU1000i Specs (Specifications)
POWER
| | |
| --- | --- |
| Running Watts | 900W |
| Starting Watts | 1000W |
| Running Amps | 7.5 amps |
| Starting Amps | 8.3 amps |
| Voltage | AC: 120V 60 Hz |
| Runtime (25% Load) | 6.8 hours |
| Runtime (50% Load) | 5 hours |
General
| | |
| --- | --- |
| Fuel Type | Gasoline |
| Engine | 49.4 cc Honda GXH50 OHV 4-stroke |
| Starting System | Recoil |
| Portable | Yes |
| Inverter | Yes |
| RV Ready | No |
| Parallel Capable | Yes |
Features
| | |
| --- | --- |
| AC Outlets | 1x Duplex 120V 15A (5-15R) |
| DC Outlets | No |
| GFCI outlets | No |
| Covered Outlets | Yes |
| Automatic Voltage Regulation | Inverter |
| Fuel Tank Size | 0.55 gal |
| Fuel Gauge | No |
| Data Center | No |
| Indicators | Low Oil, Overload, Output Ready |
| Bluetooth | No |
Miscellaneous
| | |
| --- | --- |
| Brand | Honda |
| Model # | EU1000i |
| Other Known Model # | EU1000T1AG, EU1000iT1A |
| Weight | 28.7 lbs |
| Dimensions (L x W x H) | 17.8 x 9.5 x 14.9 in |
| Noise Level | 42 dBA |
| Emissions | EPA, CARB |
| THD | < 3% |
| Security | CO Monitoring, Low Oil Protection, Overload Protection |
| Neutral | Floating |
| Spark Arrestor | Yes |
| Accessories Included | No |
| Series Name | Super Quiet |
| Warranty | 2 Years |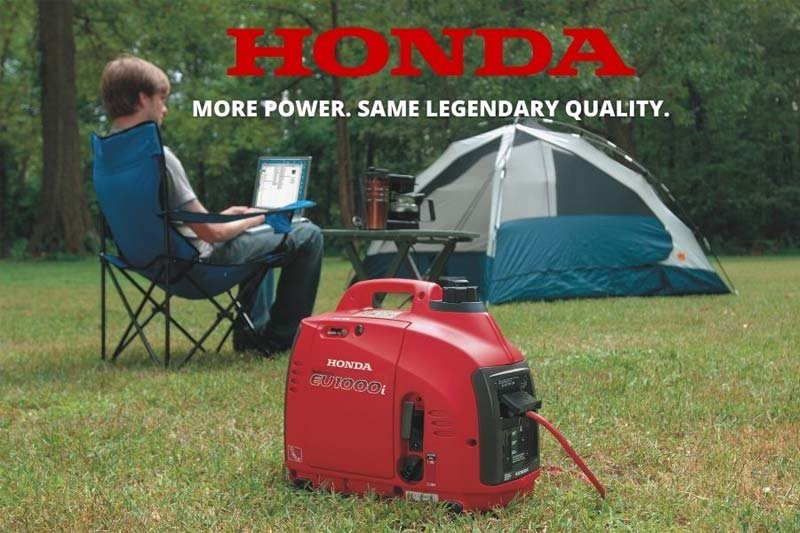 Honda EU1000i Reviews
0 out of 5 stars (based on 0 reviews)
There are no reviews yet. Be the first one to write one.
Honda EU1000i Additional Information