The Predator 8750 generator is a heavy-duty, fuel-efficient inverter generator. It has a standard wattage of 7000W standard and a peak of 8750W.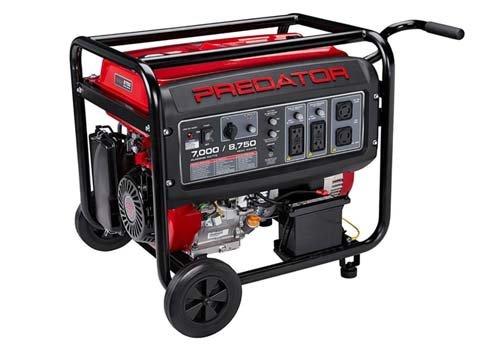 Rated Watts:
7000W
Peak Watts:
8750W
Max Runtime:
12h
(@50%)
Start:
Electric, Recoil
Emissions:
EPA, CARB
Fuel Type: Gasoline
Noise Level: 76 dBA
Item Weight: 183 lbs
RV Ready: No
Inverter: No
Predator 8750 Description
Designed for people with heavy-duty requirements, the Predator 8750 is one of the most robust portable generators by Harbor Freight.
Boasting a massive 7000 running watts, this generator can continuously power multiple home appliances such as air conditioners, refrigerators, house lights, and several other big machines without a hitch.
Apart from residential usage, the Predator 8750 can also be used in job sites, farming applications, and as a reserve power source. With a fuel tank capacity of 6.6 gallons, it can run for 12 whole hours at 50% capacity.
The Predator 8750 isn't cheap. However, compared to other generators of the same caliber, the Predator 8750 is an absolute steal, considering its advanced features.
Along with its powerful engine and high-efficiency rating, the Predator 8750 is exceptionally durable and robust. Plus, it's pretty easy to operate and is relatively low maintenance!
The high-end generator is an excellent option for running multiple high-voltage appliances for a considerable amount of time.
Power and Runtime
The Predator 8750 is a 13 horsepower generator with a running wattage of 7000, peaking at 8750.
Designed with a 420cc air-cooled Overhead Valve Engine (OVE), this generator can efficiently run for about 12 hours at 50% load. This makes its average consumption around 0.55 gallons per hour. As such, the Predator 8750 is ideal for long-term use.
If you frequently experience power outages in your area or love going on impromptu RV trips, this generator may be the best option for you.
Outlets and Ports
The Predator 8750 generator is quite generous with its ports. In total, it has six AC outlets and one DC outlet. The AC outlets include two 120V 20A duplexes, one 120V 20A twist-lock outlet, and three prongs. Its DC outlet features a 12V 8A cigarette lighter-style receptacle that allows you to charge small batteries and appliances.
Although the Predator 8750 isn't RV-ready, you can still create an easy RV connection with a conversion kit using an L5-30R receptacle. Moreover, it's transfer switch ready, allowing you to power appliances on your circuit breaker panel. Its built-in transfer switch automatically switches on when a power outage occurs.
Features
The Predator 8750's features are the reason for its widespread popularity. Here's a roundup of the generator's main features.
Energy Efficiency
The Predator's 8750 420cc air-cooled OHV engine runs on 87+ unleaded gasoline. It doesn't only reduce emissions, but it also increases combustion power.
Low Oil Shutdown
Insufficient lubrication can result in internal damage, and it may cause a sudden shutdown. You won't face this issue with the Predator 8750 Generator, thanks to its low oil indicator and low oil shutdown mechanism.
As the name suggests, the low oil indicator warns you when it's time to replace the generator's oil. If you forget, the Predator 8750 automatically shuts down when it detects dangerously low oil levels. Doing so protects the engine's internal parts, therefore increasing its overall lifespan.
Durable Construction
Predator generators are well-known for their durable construction, and the 8750 is no different. Its sturdy body is enveloped in a steel roll cage, and Stout molded plastics.
All important parts are made from high-quality metal and steel. To further protect it from physical hits, the engine and air filter are equipped with shock-absorbing mounts and thick foam insulation.
Easy-to-Understand Interface
No one wants a generator with overly complicated power-up instructions. Thankfully, the Predator 8750 has a straightforward, easy-to-understand control panel interface. All buttons and switches are properly labeled. The manual and instrument panels are clear and easy to follow.
Operation is relatively simple, as well. To operate the generator, you can either use the electric starter or the pull starter. Moreover, its open-frame design makes maintenance an easy affair.
On a side note, the Predator 8750 doesn't have an actual battery for the electronic push start, so you may want to purchase this equipment separately.
Built-In Fuel Gauge
When it comes to refueling, no guesswork is required. The Predator 8750 features a built-in fuel gauge that allows you to check the device's gas level at any point in time. You don't have to open the fuel cap or separately monitor your consumption using a third-party device.
Warranty and Other Services
The Predator 8750 is backed with a 90-day warranty if it doesn't meet high quality and durability standards. Unfortunately, there are other generators with a much better warranty period. If you're searching for a generator based on warranty, it might be best to leave the Predator behind.
When it comes to emissions, Harbor Freight offers a full two-year warranty. Most generators have only one, so the extra year is a welcome addition.
The company will repair or replace any emissions-related part on the Predator 8750 if it becomes defective or malfunctions. This includes the air induction system, ignition system, catalyst system, and other miscellaneous parts (vacuum, switches, hoses, belts, etc.).
Size and Weight
The Predator 8750 weighs 183 pounds and measures 27 x 22 x 22.8 inches (L x W x H). It has a compact open-frame design that allows users to raise the generator above ground level, making it relatively portable.
Although it's quite heavy, you can easily attach a wheel kit to move it around. The wheel kit must be purchased separately, though, as it doesn't come in the package.
Noise Level
I'll go ahead and say it: the Predator 8750 isn't a quiet generator. In fact, it's quite noisy compared to other models. It measures around 76 decibels, which is about as loud as a vacuum cleaner. Extended repeated exposure to this level of noise may cause hearing loss, so it's best to place this generator at least 20 feet from your house or workplace to avoid discomfort.
Emissions
The Predator 8750 is approved by the Environmental Protection Agency (EPA) and the California Air Resources Board (CARB). This makes it environmentally friendly and permitted in all 50 states.
Predator 8750 Specs (Specifications)
POWER
| | |
| --- | --- |
| Running Watts | 7000W |
| Starting Watts | 8750W |
| Running Amps | 29.2 amps |
| Starting Amps | 36.5 amps |
| Voltage | AC: 120/240V 60 Hz, DC: 12V |
| Runtime (25% Load) | - |
| Runtime (50% Load) | 12 hours |
General
| | |
| --- | --- |
| Fuel Type | Gasoline |
| Engine | 420 cc OHV 4-stroke |
| Starting System | Electric, Recoil |
| Portable | Yes |
| Inverter | No |
| RV Ready | No |
| Parallel Capable | No |
Features
| | |
| --- | --- |
| AC Outlets | 2x Duplex 120V 20A (5-20R) GFCI, 1x 120V 30A (L5-30R), 1x 120/240V 30A (L14-30R) |
| DC Outlets | 1x 12V 8A |
| GFCI outlets | Yes |
| Covered Outlets | Yes |
| Automatic Voltage Regulation | Yes |
| Fuel Tank Size | 6.6 gal |
| Fuel Gauge | Yes |
| Data Center | No |
| Indicators | Low Oil |
| Bluetooth | No |
Miscellaneous
| | |
| --- | --- |
| Brand | Predator |
| Model # | 8750 (63085) |
| Weight | 183 lbs |
| Dimensions (L x W x H) | 26.9 x 22 x 22.8 inches |
| Noise Level | 76 dBA |
| Emissions | EPA, CARB |
| THD | < -% |
| Security | Low Oil Protection, Overload Protection |
| Neutral | - |
| Spark Arrestor | Yes |
| Accessories Included | No |
| Warranty | 90 Days |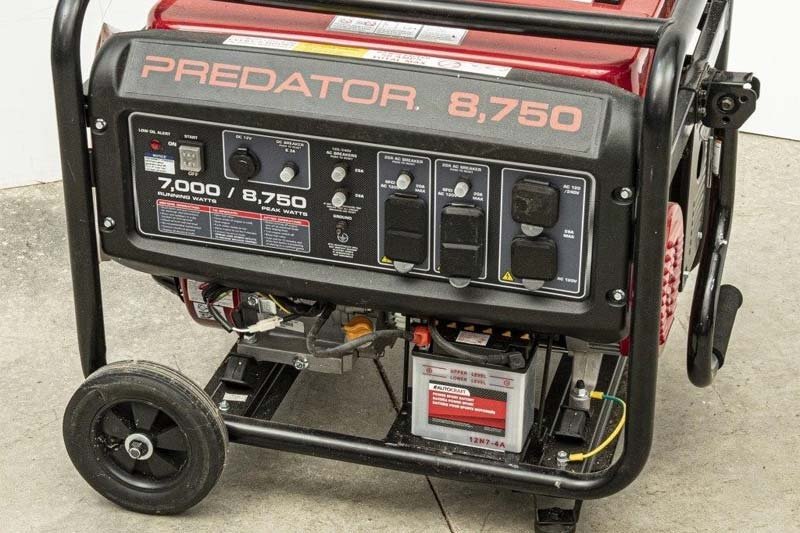 Predator 8750 Reviews
0 out of 5 stars (based on 0 reviews)
There are no reviews yet. Be the first one to write one.
Predator 8750 Additional Information