WEN 56200i 2000 Watt Inverter Generator
The WEN 56200i generator is a highly portable, versatile, and fuel-efficient. It has a rated wattage of 1600 Watts and a starting wattage of 2000 Watts.
Rated Watts:
1600W
Peak Watts:
2000W
Max Runtime:
9.4h
(@25%)
Start:
Recoil
Emissions:
EPA, CARB
Fuel Type: Gasoline
Noise Level: 50 dBA
Item Weight: 50 lbs
RV Ready: No
Inverter: Yes
WEN has been around for seven decades. They manufacture a wide array of power tools and appliances, and by 2001, they'd sold 50 million consumer units. This is consistent with their admirable credo: "Our goal is to help woodworkers and artisans across the world execute their wildest imaginations".
The WEN generators are known for their reliable build, efficient design, good aesthetics, and moderate price. The WEN 56200i is a versatile lightweight unit that can be used in a variety of settings, like:
Leisurely outdoor activities
Camping, fishing, and hunting trips
Residential standby power generation
Work area auxiliary power
To power up hobbies and crafts far from the workshop
On-site construction work
Tailgating, RVing, and Raves
Power and Runtime
Compact generators are usually in the lower range when it comes to power output. And that's usually the right amount for specific categories of work, leisure, or emergency power utilization. The WEN 56200i has a regular wattage of 1600W with a peak wattage of 2000W.
This power comes from a 79.7 cc WEN OHV 4-stroke engine that runs on gasoline. It has a 1-gallon tank, and when it's full, its runtime can go for around 6 hours at half load. The fuel consumption is approximately 0.17 GPH, and the unit can be switched to ECO-mode throttle for optimal usage.
The 120 V produced signal is quite clean, with a Total Harmonic Distortion (THD) <1.2%. This is good enough for operating sensitive devices.
Outlets and Ports
The amount and types of outlets in this gen pretty much cover all the power needs of users. There are two AC 120V 20A (5-20R) receptacles, one DC 12V 8A receptacle, and a 5V USB port.
The power rating of the gen allows for two AC appliances at a time, which is reasonable. The DC receptacles can be used to operate and charge digital devices, since the WEN 56200i produces a clean wave with minimal spikes and disruptions.
There's also a port for connecting another WEN inverter through a specialized kit.
Features
This generator comes with a bunch of practical features that go perfectly with its typical usage in camping, tailgating, site work, and as an emergency power source.
Fully Portable
This generator inverter is roughly as heavy as a Tibetan Terrier or a sack of potatoes, in addition to being smaller than either of them. It's thus quite easy to lift and move from place to place.
The WEN 56200i also comes with a molded handle, which facilitates handling it even more. Being that portable tops the list of reasons that make it popular with users.
Quiet Operation
There's no application that doesn't prefer quiet devices over noisy ones. But of course, that's not always attainable. Luckily, this generator is as quiet as they get, with a noise level of around 50 dBA.
Some activities benefit more from this feature. For example, camping in a quiet area, fishing trips, and working on crafts that require concentration. There's a host of other applications where serenity is needed.
Assorted Ports and Clean Power
Several generators come with AC outlets only, and users then need to add UPS units to clean up the power, in addition to transformers to produce DC power.
The WEN already supplies both AC and DC power, in addition to a USB port. The signal comes out clean and steady at the point of use, so the users can simply plug and play all sorts of appliances.
Unit Safety, Monitoring, and Protection
The WEN 56200i is equipped with circuit breakers to protect the unit from any accidental overloading. In addition, it shuts down automatically when the oil level reaches a critically low level.
The unit also comes with a built-in fuel gauge, so the users can check the gas level at a glance. This is essential to avoid any unpleasant surprises or running on an empty tank.
Parallel Connectivity
You might need a little extra power for a camping trip that includes the whole family, and a single gen might be insufficient. The WEN 56200i can be connected to another WEN generator through a dedicated outlet. And this simple addition instantly produces double the power you can get with a single unit.
The connection is quite easy, but it needs a WEN parallel kit to work. It's a budget-friendly device that can increase the output power to 3600 watts with up to 30 amps.
ECO-Mode Operation
The WEN 56200i is already rational in its fuel consumption, but selecting the ECO-Mode makes it even more efficient. Working with a 1-gallon tank makes this feature especially valuable.
Size and Weight
This compact generator inverter measures about 18″ x 11″ x 18″, which is a relatively small footprint. It can be transported in any vehicle and placed on just about any surface. It has a dry weight of 48 Pounds, so it can be carried around at ease.
Noise Level
Closed-frame inverter generators are generally much quieter than open-frame units. This generator produces 53 dBA. measured at quarter load. This is comparable to an air conditioner or a normal conversation, which means that it's pretty quiet.
It's worth noting that the quietest generators work at around 48 dBA, so the WEN 56200i is among the least intrusive models you can get.
Emissions
This generator is considered an eco-friendly unit, as it's compliant with the stringent CARB requirements, and it's also approved by the EPA. Thus, it can be used in all states, including California.
Additionally, the WEN 56200i is equipped with a spark arrestor, which makes it a good choice for camping in forests and parks where there's zero tolerance for fire hazards.
WEN 56200i Specs (Specifications)
POWER
| | |
| --- | --- |
| Running Watts | 1600W |
| Starting Watts | 2000W |
| Running Amps | 13.3 amps |
| Starting Amps | 16.7 amps |
| Voltage | AC: 120V 60 Hz, DC: 12V |
| Runtime (25% Load) | 9.4 hours |
| Runtime (50% Load) | 6 hours |
General
| | |
| --- | --- |
| Fuel Type | Gasoline |
| Engine | 79.7cc WEN OHV 4-stroke |
| Starting System | Recoil |
| Portable | Yes |
| Inverter | Yes |
| RV Ready | No |
| Parallel Capable | Yes |
Features
| | |
| --- | --- |
| AC Outlets | 1x Duplex 120V 20A (5-20R) |
| DC Outlets | 1x 12V 8A, 1x 5V USB Port |
| GFCI outlets | No |
| Covered Outlets | No |
| Automatic Voltage Regulation | Inverter |
| Fuel Tank Size | 1.0 gal |
| Fuel Gauge | Yes |
| Data Center | No |
| Indicators | Low Oil, Overload, Output Ready |
| Bluetooth | No |
Miscellaneous
| | |
| --- | --- |
| Brand | WEN |
| Model # | 56200i |
| Weight | 50 lbs |
| Dimensions (L x W x H) | 18 x 11 x 18 inches |
| Noise Level | 50 dBA |
| Emissions | EPA, CARB |
| THD | < 1.2% |
| Security | Low Oil Protection, Overload Protection |
| Neutral | Floating |
| Spark Arrestor | Yes |
| Accessories Included | No |
| Warranty | 2 Years |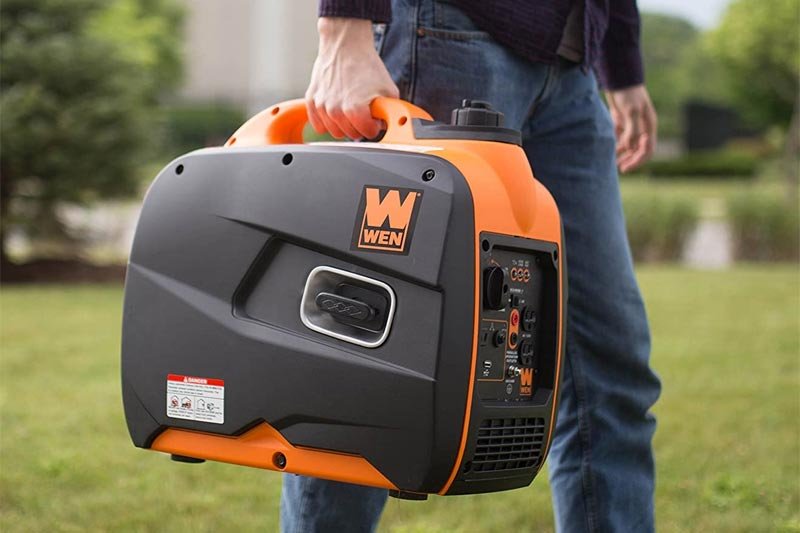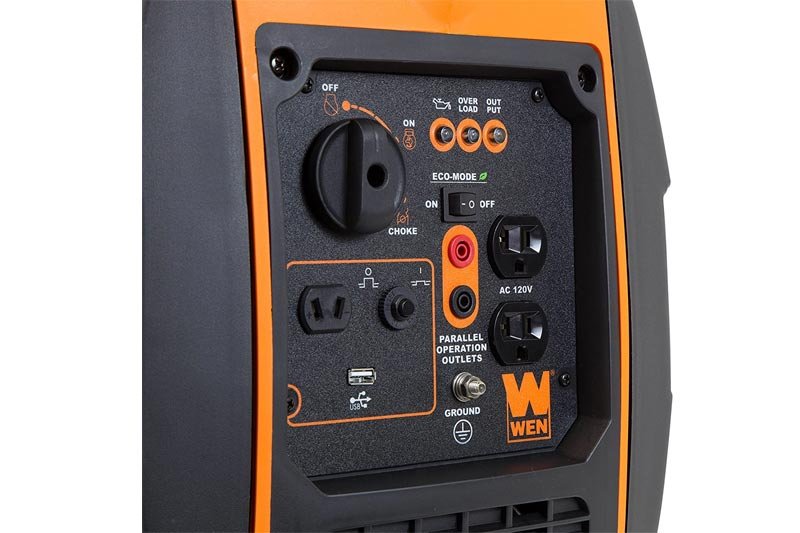 WEN 56200i Reviews
0 out of 5 stars (based on 0 reviews)
There are no reviews yet. Be the first one to write one.
WEN 56200i Additional Information