Westinghouse iGen2500 Generator
The Westinghouse iGen2500 is a portable and quiet-operating generator. With 2500 starting watts, 2200 rated watts, and an average of 10 hours of runtime, it serves as a perfect power outlet for backups and recreational activities.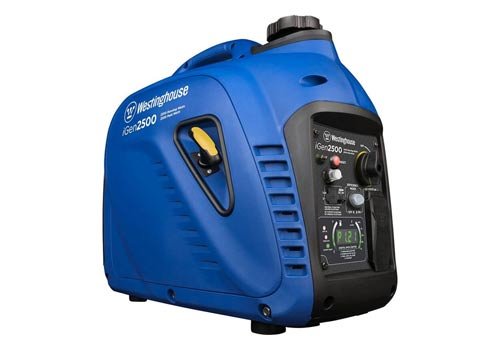 Rated Watts:
2200W
Peak Watts:
2500W
Max Runtime:
10h
(@25%)
Start:
Recoil
Emissions:
EPA, CARB
Fuel Type: Gasoline
Noise Level: 52 dBA
Item Weight: 48 lbs
RV Ready: No
Inverter: Yes
Westinghouse iGen2500 Description
Before we go through a detailed rundown of the iGen1500i's features, here are its highlights.
Features an elaborate digital display that shows its current state in detail
Portable, thanks to its lightweight and convenient handle
30% – 50% more fuel-efficient than its counterparts
Automatic shutdown safety features in case of overload or low oil
Operation sound is as quiet as 52 dBA
Quick installation and straightforward starting up process
Power and Runtime
With 2500 starting watts and 2200 rated watts, Westinghouse's iGen2500 is a convenient option as a backup in case of power outages or as a source of electricity in an RV. The 2200 watts mark is enough to get the lights, alongside a few basic electronic devices, up and running.
On top of that, all the generators from the iGen series come with a stable power of less than 3% THD. With most generators and power outlets operating at a THD of 5%, it means that Westinghouse's generators are calibrated to work with sensitive electronics that require a lower THD like computers, mobiles, and the like. Note that this feature isn't available in all generators, so it's worthy of your consideration.
If you'd like to kick it up a notch to power bigger machines like fridges or so, you can pair your iGen2500 generator with another inverter generator from Westinghouse (parallel operation). To do this, you'll need to get the WHPC (Westinghouse Parallel Cord) that's sold separately to activate the parallel capability feature and power more devices.
Westinghouse's iGen2500 generator boasts of having a runtime of about 10 hours. That's not the most impressive part yet. What it does pretty well is that it manages fuel efficiently, where it only needs 0.1 gallons of fuel per hour to operate at a 25% load.
Besides, it includes an 'Economy Mode' for efficient usage of fuel. This feature relies on the 4-Stroke OHV engine that automatically changes its speed to adjust power, producing the amount that works just fine to deliver the best fuel efficiency.
According to the manufacturer, the varying engine speed makes it more fuel-efficient than other generators by 30% – 50%.
With the help of the digital display, you can know how many hours of runtime are remaining, how much fuel is there, and adjust the operating mode accordingly.
In case you're wondering, the fuel in use here is gasoline.
Outlets and Ports
There are two 20 Amp, 120V ports in addition to two USB ports with rubber covers that you can use to charge devices directly from the generator.
Features
Lets take a closer look at a few of the features that make this generator great:
Display
One of our favorite features about this generator is its detailed digital display, which shows all the necessary metrics during its operation. We're talking voltage output, power output, the current level of fuel, and the remaining runtime.
This is pretty convenient as it basically tells you what you should do at any given time; when it needs fuel, when it needs charging, and so on.
Safety
The iGen2500 is available in two colors; bright blue and TrueTimber Kanati camouflage. The latter might be a nice option when camping outside to blend within the environment.
Appearance
Safety is crucial when it comes to generators. Westinghouse managed to do a good job with this line of generators.
For instance, the generator features an automatic low oil shutdown feature that's activated when the oil level in the crankcase falls below the safety limit. There's an LED at the control panel at the back of the generator that will light for a few seconds in this situation before it shuts down automatically. If your engine doesn't start for no apparent reason, check for the low oil LED, it might be the problem.
The iGen2500 also features an overload protection feature, where the generator's inverter will automatically shut down all the AC outputs to protect the generator in case of an overload or a short circuit in one of the appliances. There's also an LED at the control panel that lights up when there's an overload.
The generator comes with a limited warranty of three years. On the downside, the company doesn't have the best quality control team out there. Multiple reviewers mentioned receiving faulty parts and they struggled with the customer service replacing them. Yet, the company replied that they're working on that, so we're expecting some improvements here.
However, we'd like to mention that finding fuel or sediment residue in the tank is actually normal. It's a byproduct of testing the generator before distributing it to customers.
Size and Weight
Probably, the most impressive feature of this generator is how lightweight and portable it is. At 48 pounds only and with a comfortable carrying handle, it eliminates the hassle of dragging the heavy old-fashioned generator all the way from your garage when you need it.
It's also compact, at dimensions of 19.8 x 11.2 x 17.9 inches.
Noise Level
Westinghouse iGen2500 is a quiet generator. It operates, producing only a 52 dB sound output. This is roughly equivalent to the sound output of a hairdryer or a refrigerator, which is pretty impressive for a generator.
Besides limiting loudness, the quiet operation of this generator makes it perfect for recreational activities like tailgating, camping, and other outdoor activities.
Emissions
Westinghouse follows the guidelines of EPA and has the CARB certificate, which means it won't pollute the environment, and it's eligible for sale and resale across all states.
Westinghouse iGen2500 Specs (Specifications)
POWER
| | |
| --- | --- |
| Running Watts | 2200W |
| Starting Watts | 2500W |
| Running Amps | 18.3 amps |
| Starting Amps | 20.8 amps |
| Voltage | AC: 120V 60 Hz, DC: 5V |
| Runtime (25% Load) | 10 hours |
| Runtime (50% Load) | 8 hours |
General
| | |
| --- | --- |
| Fuel Type | Gasoline |
| Engine | 98cc Westinghouse OHV 4-stroke |
| Starting System | Recoil |
| Portable | Yes |
| Inverter | Yes |
| RV Ready | No |
| Parallel Capable | Yes |
Features
| | |
| --- | --- |
| AC Outlets | 1x Duplex 120V 20A (5-20R) |
| DC Outlets | 2x 5V USB port |
| GFCI outlets | No |
| Covered Outlets | Yes |
| Automatic Voltage Regulation | Inverter |
| Fuel Tank Size | 1.0 gal (Steel) |
| Fuel Gauge | Yes |
| Data Center | Fuel Level, Power Output, Voltage, Remaining Runtime |
| Indicators | Low Oil, Overload, Output Ready |
| Bluetooth | No |
Miscellaneous
| | |
| --- | --- |
| Brand | Westinghouse |
| Model # | Westinghouse iGen2500 |
| Weight | 48 lbs |
| Dimensions (L x W x H) | 19.8 x 11.4 x 17.9 inches |
| Noise Level | 52 dBA |
| Emissions | EPA, CARB |
| THD | < 3% |
| Security | Low Oil Protection, Overload Protection |
| Neutral | Floating |
| Spark Arrestor | Yes |
| Accessories Included | Oil Funnel, Tool Kit |
| Warranty | 3 Years |
Westinghouse iGen2500 Photos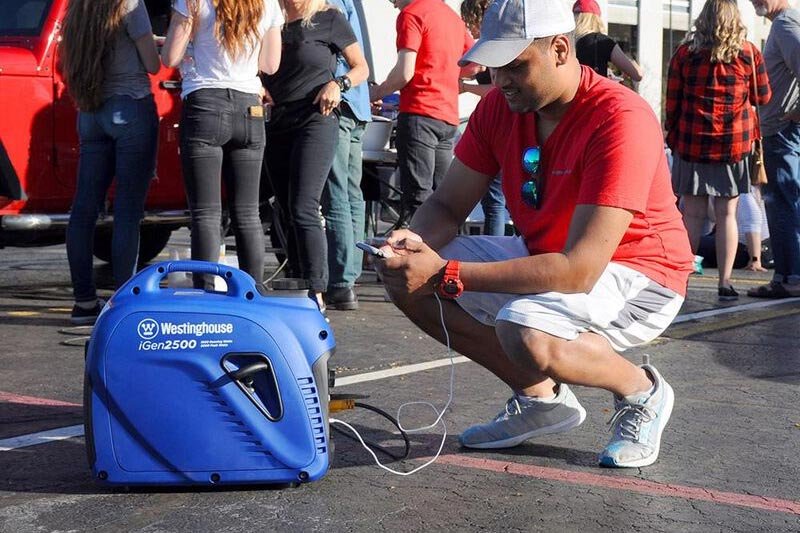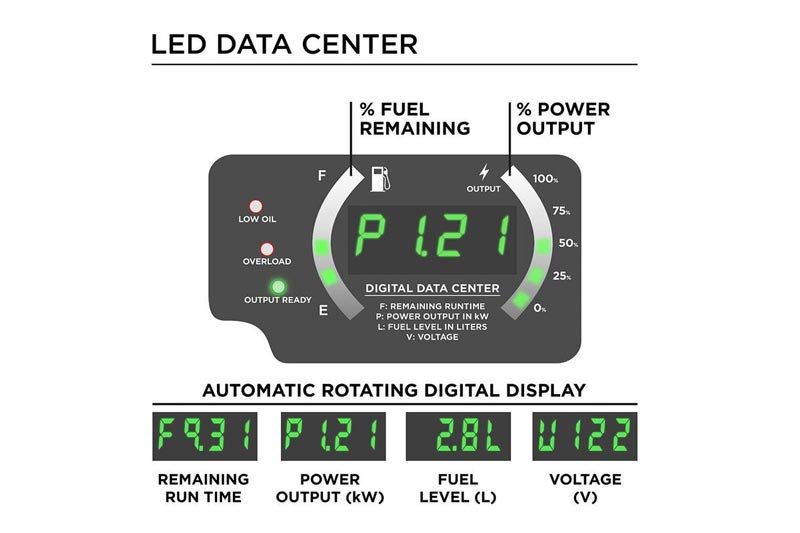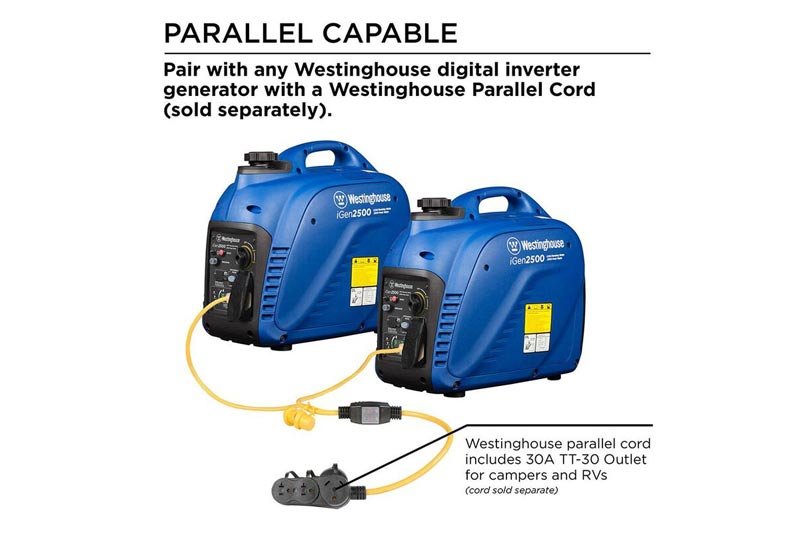 Westinghouse iGen2500 Videos
Westinghouse iGen2500 Reviews
0 out of 5 stars (based on 0 reviews)
There are no reviews yet. Be the first one to write one.
Westinghouse iGen2500 Additional Information