Westinghouse WGen7500 Generator
The Westinghouse WGen7500 will power your whole house with 7500 running watts and 9500 peak watts. It's compact, easy to maneuver, and starts with a simple push of a button.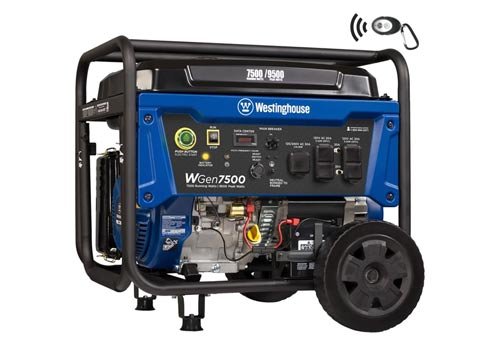 Rated Watts:
7500W
Peak Watts:
9500W
Max Runtime:
16h
(@25%)
Start:
Electric, Recoil, Remote
Emissions:
EPA, CARB
Fuel Type: Gasoline
Noise Level: 72 dBA
Item Weight: 196 lbs
RV Ready: No
Inverter: No
Westinghouse WGen7500 Description
The Westinghouse generator is made of hard steel, and it's covered with rubber to withstand the wear and tear of time. It's portable with stable and non-inflatable tires, so you never have to worry about a replacement. On top of that, the generator's handle is covered in rubber for a better grip.
The generator comes with all the accessories required, including the oil, the funnel, and a clear manual. The manual makes the assembly process a piece of cake; besides, it lists all the safety guidelines you should follow when using the device.
The generator's battery comes with an onboard charging port. It helps you keep a full battery without the hassle of removing the battery to charge it. You can even charge it while the generator is running, which is a bonus.
The engine's placement keeps it out of reach of wandering hands, ensuring the safety of your family. It's also fully enclosed so that the weather can't wear it out. The gas tank is protected with steel, as well, and the switches are metal plated. The generator is built to hold out against the worst of conditions.
Power and Runtime
The generator's engine is a 420cc four stroke OHV Westinghouse, which is well known for its longevity of life. The engine is built with overhead valves instead of side ones, making it fuel-efficient and allowing it to run at lower temperatures. This is also why the Westinghouse generator has a runtime of 11 hours on only 6.6 Gal. of gasoline fuel.
As for the power output, it's 120/240V, which provides 7500 rated watts and 9500 peak watts. That will be more than enough to light up your entire house!
Outlets and Ports
The WGen7500 has four weatherproof GFCI 5-20R 20A 120V outlets. They are necessary for protection against electrocution and fires. If there's an electric current leak, the outlets will immediately shut off the power.
The generator also has one L14-30R 30A 120/240V transfer switch outlet that allows you to transfer your home's power source to the generator when a power outage happens. No chords are needed, so the process is straightforward.
Lastly, it has an ST switch-ready outlet too. To use it, you'll have to buy the compatible ST switch. It'll automatically transfer your utility power to the generator's power.
Features
The Westinghouse WGen7500 has many advanced features that set it apart from earlier versions and other market generators.
User-friendly Control Panel
The control panel is straightforward to read so that any homeowner can learn to power the generator.
Turning the WGen7500 generator on and off is no hassle. You only have to push the switch button to start up your generator.
The control panel has a built-in fuel gauge and a digital hour meter. This way, you'll always notice if you're running out of gasoline, and you'll be aware of how long the generator has been operating to avoid overrunning it.
Advanced Settings
The advanced settings are everything you didn't know you needed. The Westinghouse WGen7500 is equipped with a remote key fob that can be used from as far as 260 ft. away! This means you can power your generator from the comfort of your couch. It's worth noting, though, that as your key fob's battery charge goes down, you'll have to get closer to the generator.
A choke system is necessary for any generator to restrict the amount of oxygen and increase the flow of fuel as you start it up. The WGen7500 has an automatic system so that you don't have to go through the trouble of doing it manually. However, you'll have to adjust it by hand if the battery isn't connected.
There are also a couple of crucial features that guarantee your safety. For instance, there's the spark arrestor, which prevents sparks from flying and exiting the muffler. Additionally, there's the automatic shut-off that turns the generator off when it's running low on oil. This feature protects your generator's engine from damage too.
Transfer Switch-Ready
A transfer switch connects your portable generator to your home. It not only allows you to switch from one power source to another automatically, but it also has a safety factor. It prevents back feeding, which could result in a severe injury or fire outbreak.
Undemanding Maintenance
Although the generator requires regular maintenance to work in full capacity, it doesn't call for a lot of effort. Apart from the oil and gasoline, which you'll have to keep an eye out for routinely, the rest can be checked every once in a while.
You'll only have to clean the air filters every six months. The same goes for the spark plug and spark arrestor. And you might have to turn on your generator for 15 mins every couple of months so that the battery remains charged. Compared to other generators, that's not a lot of work.
Size and Weight
The Westinghouse is made out of steel, so it's quite heavy, weighing 192 lbs. Although its weight makes it difficult to carry single-handedly, the tires make it effortlessly portable. The generator comes in a compact size, too, which facilitates the storing process. Its dimensions are 27.2 x 26.1 x 26 inches.
Noise Level
When it comes to generators, the noise they make is always an essential factor because it determines where you'll be able to use it. Luckily, the Westinghouse WGen7500 is equipped with a muffler to tone down the noise. It doesn't make a peep louder than a vacuum cleaner.
The noise level is 72 dBa, which is considered quite reasonable. From the comfort of your home, you probably won't be able to make the noise out.
Emissions
The Westinghouse generator poses no threat to your health nor the environment. It meets all the regulations and standards set by the two major organizations, CARB and EPA.
Nonetheless, keep in mind that using the generator in an enclosed perimeter could lead to toxic fumes. Make sure the generator is at least 15 feet away from your building.
Westinghouse WGen7500 Specs (Specifications)
POWER
| | |
| --- | --- |
| Running Watts | 7500W |
| Starting Watts | 9500W |
| Running Amps | 62.5 amps (120V) / 31.3 amps (240V) |
| Starting Amps | 79.2 amps (120V) / 39.6 amps (240V) |
| Voltage | AC: 120/240V 60 Hz |
| Runtime (25% Load) | 16 hours |
| Runtime (50% Load) | 11 hours |
General
| | |
| --- | --- |
| Fuel Type | Gasoline |
| Engine | 420cc Westinghouse OHV 4-stroke |
| Starting System | Electric, Recoil, Remote |
| Portable | Yes |
| Inverter | No |
| RV Ready | No |
| Parallel Capable | No |
Features
| | |
| --- | --- |
| AC Outlets | 2x Duplex 120V 20A (5-20R) GFCI, 1x 120/240V 30A (L14-30R) |
| DC Outlets | No |
| GFCI outlets | Yes |
| Covered Outlets | Yes |
| Automatic Voltage Regulation | Yes |
| Fuel Tank Size | 6.6 gal (Steel) |
| Fuel Gauge | Yes |
| Data Center | VFT |
| Indicators | No |
| Bluetooth | No |
Miscellaneous
| | |
| --- | --- |
| Brand | Westinghouse |
| Model # | WGen7500 |
| Weight | 196 lbs |
| Dimensions (L x W x H) | 27.2 x 26.1 x 26 inches |
| Noise Level | 72 dBA |
| Emissions | EPA, CARB |
| THD | < 23% |
| Security | Low Oil, Overload Protection |
| Neutral | Bonded |
| Spark Arrestor | Yes |
| Accessories Included | Oil Funnel, Battery, Battery Charger, Wheel Kit, Tool Kit |
| Warranty | 3 Years |
Westinghouse WGen7500 Photos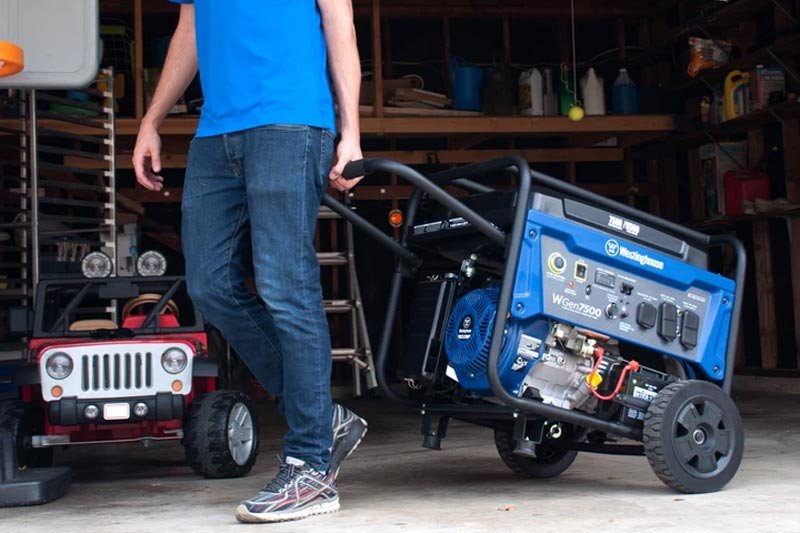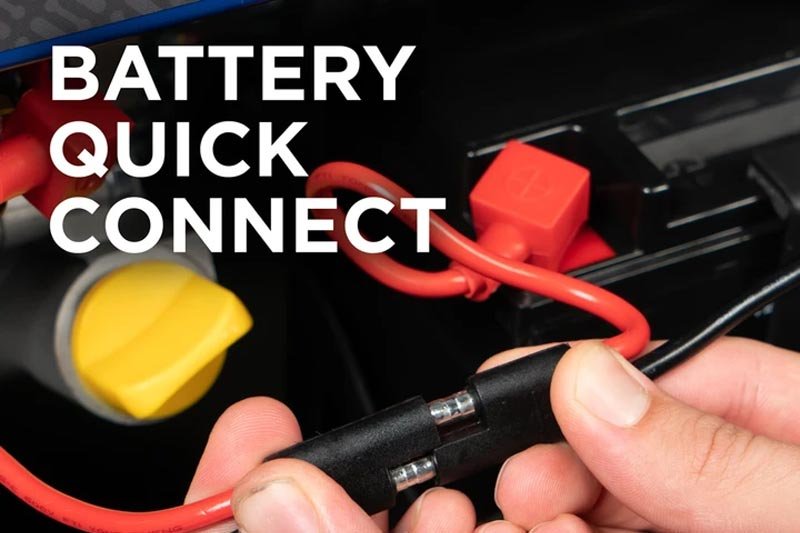 Westinghouse WGen7500 Videos
Westinghouse WGen7500 Reviews
0 out of 5 stars (based on 0 reviews)
There are no reviews yet. Be the first one to write one.
Westinghouse WGen7500 Additional Information