Yamaha EF2000iSv2 Generator
The Yamaha EF2000iSv2 is a quiet unit that packs a serious punch. Powerful and robust, it boasts an impressive rated wattage of 1600W and a starting wattage of 2000W.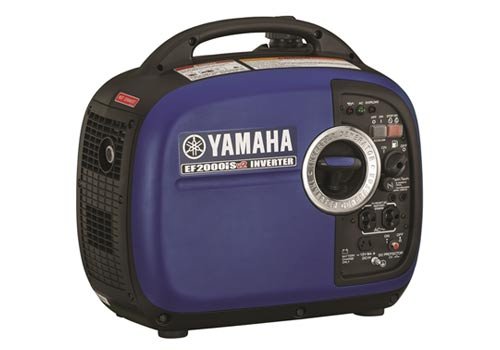 Rated Watts:
1600W
Peak Watts:
2000W
Max Runtime:
10.5h
(@25%)
Start:
Recoil
Emissions:
EPA, CARB
Fuel Type: Gasoline
Noise Level: 51.5 dBA
Item Weight: 44.1 lbs
RV Ready: No
Inverter: Yes
Yamaha EF2000iSv2 Description
The Yamaha EF2000iSv2 is a light yet powerful generator made to cater to a diverse range of people. Casual hobbyists and tailgating veterans could both appreciate what this generator has to offer.
Weighing in at around 44.1 pounds, the EF2000iSv2 is one of the most portable inverter generators you could find. It's also one of the quietest since it features Smart Throttle technology, which allows for better fuel efficiency and more effective noise reduction.
To add, the EF2000iSv2 features a recently developed controller with advanced programming. This new addition isn't just for show; it introduces a diverse range of new applications for users.
Power and Runtime
If you're looking for a unit you can leave running overnight, the EF2000iSV2 is right up your alley. It flaunts a runtime of about 10.5 hours, which is impressive for a generator of this size, thanks to its fuel tank capacity of 4.2 liters and oil tank capacity of 0.4 liters.
The Yamaha's power output is quite run-of-the-mill for a generator in the 2000W category. It has a running power of 1600W, which is definitely an upgrade from the 900W running power in the older Yamaha model.
1600W is more than enough for charging personal electronics along with powering a couple of demanding household appliances.
The Yamaha EF2000iSv2 boasts Pulse Width Modulation (PWM) technology, which ensures that the voltage stability is within ± 1%, and the frequency stability is ± 0.1 HZ. Put differently, this unit delivers unwavering performance.
Outlets and Ports
The control panel features two AC outlets and one DC outlet. To add, It has a 12V 8A receptacle that you can use to charge your batteries.
Features
The Yamaha EF2000iSvF boasts a wide range of features. The following paragraphs help shed light on its most notable features.
Smart Throttle Technology
With the Smart Throttle system, the engine's performance is altered based on the load. This little detail makes all the difference, as it improves fuel economy and reduces noise notably.
Smart Throttle Technology is pretty much the reason why the Yamaha EF2000iSv2 is so quiet compared to its competitors from the same class.
Fuel Petcock
With the Yamaha EF2000iSv2, you don't have to worry about stale gas problems at all, as it's equipped with a fuel petcock, which, in addition, prevents carburetors from getting all gummed up.
Fuel Gauge
With the EF2000iSvF, you can now check the fuel level without shutting down the entire unit. This means that you can perform quick fuel inspections on the go without the need to interrupt the generator's operation.
Oil Watch Warning System
This feature helps avoid engine damage, which is an issue associated with low oil levels. It helps prevent expensive repairs and minimizes downtime.
TwinTech
With the TwinTech system, you can easily hook up a couple of EF2000iSv2 units together to achieve a maximum power of around 30 amps.
However, this feature requires an accessory Sidewinder or TwinTech II cable. Both are sold separately.
Long Run Time
The EF2000iSv2's fuel-saving tech automatically adjusts the speed of the engine to match the operative load, which helps add to the unit's run time.
In fact, the EF2000iSv2 could operate up to 10.5 hours at a 1/4 rated load with a full gas tank.
Parallel Generator Operation
This generator is parallel-capable, meaning it's possible to connect it in parallel with an earlier Yamaha model.
New Controller
The EF2000iSv2 includes an unseen-before controller with advanced programming. This allows you to use the generator with a wide range of appliances and in various applications. Moreover, it ensures that the unit delivers an uncompromising output between 1600W and 2000W.
Output
The Yamaha EF2000iSv2 generator provides clean, reliable power, as it's equipped with Pulse Width Modulation (PWM) technology, which ensures voltage stability within ± 1%. It also helps ensure frequency stability within ± 0.1 HZ.
Emission Engine Durability Rating
Yamaha generators are praised for their emission engine durability ratings. These ratings are issued both by the California Air Resources Board (CARB) and the Environmental Protection Agency (EPA).
Electrical Overload Breaker
The EF2000iSv2 is well-equipped to handle electrical overloads. The electrical overload breaker within the generator helps prevent damage by shutting the unit off in the event of an electrical overload.
OHV Engine
Efficient and powerful, it provides the generator with the power it needs to power demanding household appliances, as well as impressive heat dissipation and a long lifespan.
Size and Weight
At around 44 pounds, the EF2000iSvF is super lightweight compared to competitors within the same class. In addition, it's quite compact, with a length of 490mm, a width of 280mm, and an overall height of around 445mm. The generator only takes up around 2.2 cu. ft. It's surely one of the easiest units to carry and store.
Noise Level
Generators are generally considered to be noisy. This Yamaha unit is one of the few exceptions, though. At a 1/4 load, the EF2000iSv2 has a noise level of just 51.5 decibels, which is incredibly quiet.
To put it into context, 51.5 decibels aren't louder than most background noise. It's quiet enough that it won't bother nearby neighbors, making it ideal for activities like tailgating and camping.
The low noise level is mostly due to an extremely effective muffler that has a USFS-approved spark arrestor. It's so quiet that you can be near one and may not realize it is running.
Emissions
If you're worried about emissions, you'd be pleased to know that the Yamaha EF2000iSv2 is both EPA-approved and CARB-compliant.
This means it produces very minimal emissions and that you can purchase it in any state.
Other Important Information
The Yamaha EF2000iSv2 is an inverter-silent generator. Its frequency measures around 50Hz. Meanwhile, the rated AC output is 1600W.
The rated current's output measures at around 6.9A DC. Moreover, its operating times can extend to 0.5 hours, even if it goes without refill.
This unit's system has a recoil starting system. Its maximum power output measures around 4500rpm. It has a displacement of 79cc.
Yamaha EF2000iSv2 Specs (Specifications)
POWER
| | |
| --- | --- |
| Running Watts | 1600W |
| Starting Watts | 2000W |
| Running Amps | 13.3 amps |
| Starting Amps | 16.7 amps |
| Voltage | AC: 120V 60 Hz, DC: 12V |
| Runtime (25% Load) | 10.5 hours |
| Runtime (50% Load) | - |
General
| | |
| --- | --- |
| Fuel Type | Gasoline |
| Engine | 79cc Yamaha MZ80 OHV 4-stroke |
| Starting System | Recoil |
| Portable | Yes |
| Inverter | Yes |
| RV Ready | No |
| Parallel Capable | Yes |
Features
| | |
| --- | --- |
| AC Outlets | 1x Duplex 120V 20A (5-20R) |
| DC Outlets | 1x 12V 8A |
| GFCI outlets | No |
| Covered Outlets | No |
| Automatic Voltage Regulation | Inverter |
| Fuel Tank Size | 1.1 gal |
| Fuel Gauge | Yes |
| Data Center | No |
| Indicators | Low Oil, Overload, Output Ready |
| Bluetooth | No |
Miscellaneous
| | |
| --- | --- |
| Brand | Yamaha |
| Model # | EF2000iSv2 |
| Other Known Model # | EF2000iS |
| Weight | 44.1 lbs |
| Dimensions (L x W x H) | 19.3 x 11 x 17.9 inches |
| Noise Level | 51.5 dBA |
| Emissions | EPA, CARB |
| THD | < 2.5% |
| Security | Low Oil Protection, Overload Protection |
| Neutral | Floating |
| Spark Arrestor | Yes |
| Accessories Included | No |
| Warranty | 3 Years |
Yamaha EF2000iSv2 Reviews
0 out of 5 stars (based on 0 reviews)
There are no reviews yet. Be the first one to write one.
Yamaha EF2000iSv2 Additional Information