Lasko 755320 Ceramic Tower Heater
Lasko's compact and powerful heater is perfect for adding warmth in any small space. The built-in safety features, extra-long ceramic element, and penetrating air velocity provide safe comfort at an affordable price. With both continuous fan speed or selectable heat settings you can find the perfect level of heat to fit your winter needs. Get cozy with a Lasko 755320 today!
Rated Watts: 1500W
Heat Output: 5118 BTU/Hour
Area Heated: 300 sq. ft.
Voltage: 120V
Technology Type: Ceramic
Indoor/Outdoor: Indoor
Remote Control: Yes
Item Weight: 6.6 lbs
Need reliable heat for a small room? The Lasko 755320 1500-watt tower space heater with a ceramic element might offer the warm relief you need. Its slim design fits in tight corners and narrow rooms without becoming a trip hazard, and the heat isn't bad, either.
You'll like that the Lasko space heater has a black cool-touch casing. This temperature-controlled covering protects your fingers from injury and avoids meltdowns. A built-in carry handle makes it easily portable, too.
There are three settings:
You can customize your heat settings, too; auto mode can be adjusted using the programmable thermostat. All modes can operate on a 7-hour timer.
Not only that, but the electronic controls are simple to use. If you find yourself more than arm's length away, you can make adjustments from across the room with the included remote. The thermostat controls the temperature in 5-degree increments, from 80 to 85 degrees.
An on/off oscillation option allows heat to fill the entire room. For the most effective airflow, though, the manufacturer recommends only using the 751320 in rooms no larger than 300 square feet.
But for cozier areas, it might be the perfect option. The ceramic element is self-regulating with Overheat Protection. This feature ensures that you get the heat you want with an automatic shut-off when the device nears the critical zone where it could overheat.
Lasko's tower space heater has a 6-inch cord and comes fully assembled. The included manufacturer warranty is three years.
Lasko 755320 Specs (Specifications)
Power
| | |
| --- | --- |
| Wattage (watts) | 1500 |
| Heat Output (BTU/hour) | 5118 |
| High Heat (watts) | 1500 |
| Low Heat (watts) | - |
| Area Heated | 300 sq. ft. |
| Amperage | 12.5 |
| Voltage | 120 |
| High Exit Air Temp | - |
| Low Exit Air Temp | - |
Features
| | |
| --- | --- |
| Heating Type | Tower Heater / Space Heater |
| Technology Type | Ceramic |
| Controls | Push Button Thermostat |
| Indoor / Outdoor | Indoor |
| Heat Settings | High / Low / Auto |
| Power Type | Electric Portable Heater |
| Remote | Yes |
| Features | Widespread Oscillation, Air Velocity Push Warmth, Digital Controls, Timer Function |
Dimensions
| | |
| --- | --- |
| Product Height | 23 Inches |
| Product Width | 8.6 Inches |
| Product Depth | 7.25 Inches |
| Product Weight | 6.6 lbs |
| Cord Length | - |
| Plug Type | 2 Pin |
General
| | |
| --- | --- |
| Warranty | 3 year |
| Certifications / Listings | ETL Listed |
| Brand | Lasko |
| Model Number | 755320 |
| Color | Silver / Black |
| Material | Plastic |
Lasko 755320 Energy Efficiency
Based on ESCR calculations
ENERGYLEARN
Energy Efficient
Space Heater
This Model's Efficiency Score
34.1
Energy efficiency range of all similar models
Least Efficient
24
Most Efficient
86
Efficiency calculated using theoretical HSPF at max watts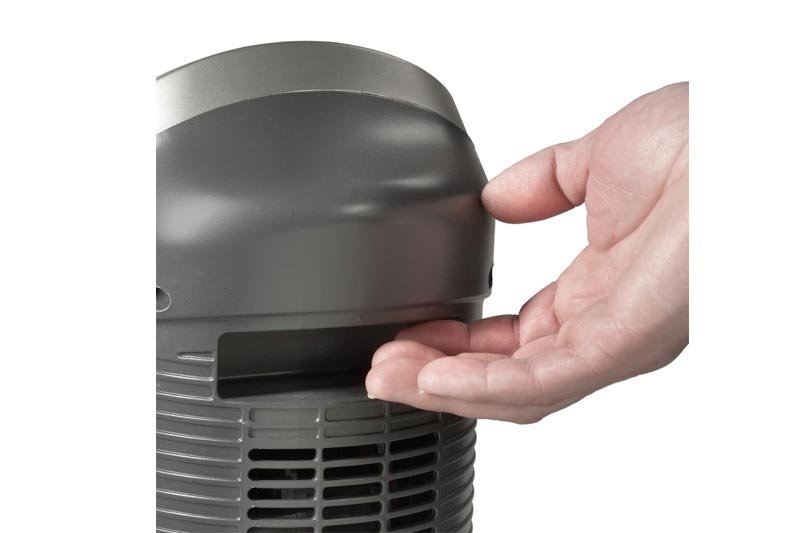 Lasko 755320 Reviews
3.7 out of 5 stars (based on 3 reviews)
When I saw this device, it looked like a ton of the reviews were plugging old outlets that cannot support 1.5kW into them. It's too bad these negative ratings are bringing down an otherwise perfect product in my opinion. When people have to think critically about what they're doing with their devices is when success starts happening for all parties involved! This particular appliance will heat up your entire room; its output is at 1.5 kW and draws more than 10A from standard US wall outlet – so you need receptacles that can handle >10 amps or higher on average meaning those cheap ones won't cut it either way!
I used this unit to keep my bedroom warm while I recovered from Covid 19. The unit was not even turned on, but the plug melted and started a small fire when I left the room for less than 10 minutes! This is just unacceptable considering how well it heats up.
The Lasko 755320 gets it done
I've been looking for a new heater to replace my old one that broke. I found this Lasko 755320 Ceramic Heater and it seems perfect! It doesn't have too much of the high pitched noise, has an oscillating feature which is helpful at times, automatic temperature control does its job well so you don't need to worry about turning your heat up in winter or down when it's summer outside. And best thing of all-it won't slip off your fingers like some other brands because the upper surface slopes downward instead of sloping upward like most others do!
I love this heater! It has a nice sleek design and looks great in my room. The fan is quiet but also oscillates, which I really appreciate because it doesn't just blow one spot of warmth at you like many other heaters do. Plus the display on the front makes it easy to see what temperature your thermostat says that its set for without having to get up and check yourself or use an app – handy when all we want sometimes is a quick boost while looking over our papers for school work before heading out again later today! I've been using space heaters as my primary winter heater in California about 7 years now with no problems until last year when I got unlucky during some heavy rainstorms where thunder knocked power lines.
Lasko 755320 Additional Information