Vornado VH200 Whole Room Heater
The Vornado VH200 Whole Room Heater is an effective way to maintain a comfortable temperature in your home without incurring excessive energy costs. It features adjustable thermostat controls which allow you to select the desired heat settings with just a turn of the dial. The sleek design, signature Vortex heat circulation and efficient heating will ensure that you are surrounded by superior warmth throughout the winter months!
Rated Watts: 1500W
Heat Output: 5122 BTU/Hour
Area Heated: 300 sq. ft
Voltage: 120V
Technology Type: Forced Air
Indoor/Outdoor: Indoor
Remote Control: No
Item Weight: 4.06 lbs.
Vornado VH200 Description
The Vornado VH200 electric space heater can fill up whole rooms with comfortable warmth and save energy with efficient airflow technology.
Vornado utilizes a unique airflow system, Vortex Action, that circulates air and heat into the whole room. The Energy Saver technology allows you to only heat the room you're using. You can save on energy costs by not wasting energy spreading unnecessary heat to other rooms.
There are three heat settings:
High Heat
Medium Heat
Low Heat
Using the control dial, you can adjust the thermostat with a range of 98 to 120 degrees Fahrenheit.
Whether you need to warm yourself from fall chill, winter blues, or a cool spring, the Vornado can thaw rooms fast. The fan is whisper quiet. You won't notice it's there until you feel relaxing warmth.
The Vornado also includes must-have safety features. The cool-touch case keeps the exterior safe to touch. Whether it's you, a curious pet, or an adventurous child, you don't need to worry about singed skin.
The Automatic Safety Shut-off turns off the heat if the device is too warm, protecting your space heater.
If you accidentally knock over the device, Tip-Over Protection automatically shuts off the heat. The feature protects your surfaces from accidental hot spots and potential damage.
The 1500-watt space heater has a 6 ft power cord for extended reach. The included manufacturer warranty is five years.
Vornado VH200 Specs (Specifications)
Power
| | |
| --- | --- |
| Wattage (watts) | 1500 |
| Heat Output (BTU/hour) | 5122 |
| High Heat (watts) | 1500 |
| Low Heat (watts) | 750 |
| Area Heated | 300 sq. ft |
| Amperage | 12.5 |
| Voltage | 120 |
| High Exit Air Temp | 120 |
| Low Exit Air Temp | 98 |
Features
| | |
| --- | --- |
| Heating Type | Fan Heater / Space Heater |
| Technology Type | Forced Air |
| Controls | Adjustable Thermostat Dial |
| Indoor / Outdoor | Indoor |
| Heat Settings | Low / Medium / High |
| Power Type | Electric |
| Remote | No |
| Features | Automatic safety shut-off and tip-over protection, Cool-to-the-Touch, Thermostat, Signature Vortex system |
Dimensions
| | |
| --- | --- |
| Product Height | 10.6 inches |
| Product Width | 9.2 inches |
| Product Depth | 10.4 inches |
| Product Weight | 4.06 lbs. |
| Cord Length | 72 inches |
| Plug Type | 2 Pin |
General
| | |
| --- | --- |
| Warranty | 5 year |
| Certifications / Listings | ETL Listed |
| Brand | Vornado |
| Model Number | VH200 |
| Color | Champagne / Black |
| Material | Plastic |
Vornado VH200 Energy Efficiency
Based on ESCR calculations
ENERGYLEARN
Energy Efficient
Space Heater
This Model's Efficiency Score
34.1
Energy efficiency range of all similar models
Least Efficient
24
Most Efficient
86
Efficiency calculated using theoretical HSPF at max watts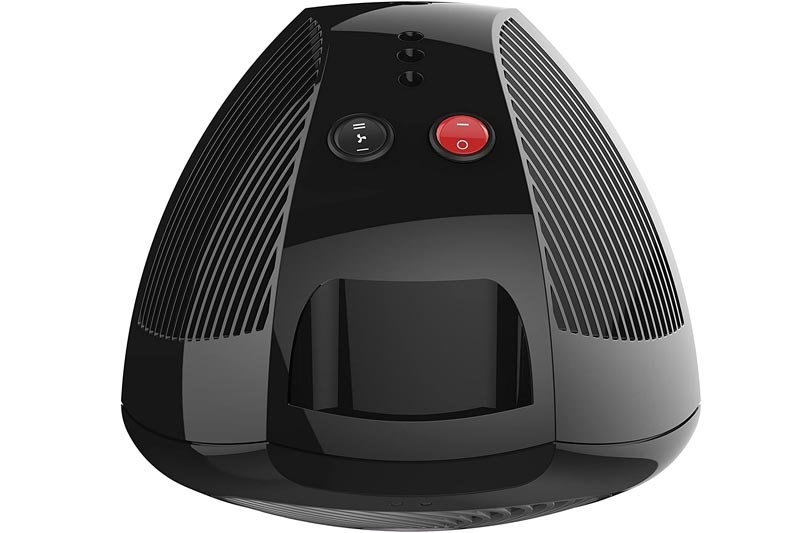 Vornado VH200 Reviews
4.3 out of 5 stars (based on 4 reviews)
Great Heater for Medium-Sized Spaces
The Vornado vh200 heater is one of the better we've tried. After some research, it was clear this little machine had fast and efficient heating that retained a lot of heat (even at night) without overheating or making too much noise. The only downside? It's not perfect for large spaces – but you can't expect to get everything with one appliance! Plus, I love how sleek and simple the design looks in our living room anyways.
If you want to stay warm this winter, I highly recommend these heaters. The customer service is unbeatable and the heater has been a lifesaver for me!
It's hard to find a heating unit that doesn't annoyingly whistle or beep when it goes on, but this one is quiet. You might not even know the fan turned off because of how silent is! The adjustable features are perfect for my constantly changing body temperature and I love being able to customize them according to what I need at any given moment.
I bought this, thinking it would replace my gas heater. My electric bill ended up going up $200 a month. For me it isn't worth the extra expense.
Vornado VH200 Additional Information