Wind energy is one of the fastest growing solutions in the renewable energy sector, but does not come without its own set of drawbacks. Noise pollution, location specificity, and the threat to wildlife that wind turbines pose have created a real head-scratcher for areas hoping to utilize this technology and reduce their consumption of fossil fuels.
Is it worth going green if it only leads to environmental problems of a different kind?
Vortex Bladeless leads a revolution in wind power without the sweeping blades that give pause to countries setting up the more traditional wind turbine design. The inventor of Vortex Bladeless, David Yañez, works with his team of six just outside of Madrid on an innovative new way to harness the winds.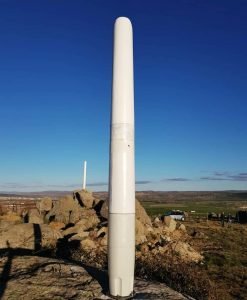 The new turbine design is more environmentally friendly, significantly reduces noise pollution, and requires less maintenance than the current standard in wind turbines. It is also able to harness wind energy even when wind speed is low, making it a more reliable solution for long-term use.
Norway's state energy company Equinor offered startup development support to Yañez and put Vortex Bladeless on a list of the top 10 most exciting projects in the energy field. They've also received the EU SME Seal of Excellence and the Spanish SME Innovation Seal.
Vortex Bladeless turbines stand 3 meters tall and support a curve-topped cylinder at the the top, secured vertically with an elastic rod. It sounds a little silly, but Vortex is designed to oscillate within the wind range and generates energy through vibrations. As the turbine interacts with wind, it appears to sway slightly, similar to a bobblehead.
Of course, the forum site Reddit publicly pointed out another aspect of the Vortex Bladeless design: it looks like a vibrator.
The original post poking fun at the massive "skybrator" gained over 95,000 ratings and 3,500 comments, transforming the Vortex Bladeless into a new kind of media darling. As the vibrating sex toy comparison was drawn, similar comments arose which gained their own form of momentum. One Reddit user commented that it looks like something you'd find in your mom's dresser drawer. This comment exploded with another 20,000 ratings of its own.
Regardless of the skewed Reddit fame Vortex Bladeless has found, it remains a viable green energy alternative to the wind turbines in use currently. It can operate without disrupting bird migrations or other wildlife, are easy to install and inexpensive to maintain. Vortex turbines can also generate between 100 to 200 kW at max capacity, and is easy to connect to existing gridlines as plans have been drawn up for highway installation next to other existing structures.
This new innovation in wind energy is making the Green New Deal look more promising as we swing into 2021. Despite it's phallic appearance, the improvements to energy sustainability are well worth considering. And it's mom's dresser drawer approved.
*Featured Photo Credit: Vortex Bladeless